Pro Clubs is one of the most popular game modes in FIFA 22. Thanks to many innovations like an own stadium, fan anthems and new perks, Pro Clubs offers a lot of fun for you and your friends. We explain how to level up the fastest, how to get skill points, and which perks are the best.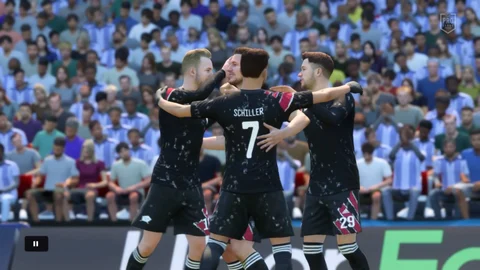 Pro Clubs is gaining popularity with the FIFA community year after year. Since the Weekend League can now be completed in just 20 games, Pro Clubs is played more and more often. In this article, we will explain the mode with all its tips and tricks. It doesn't matter if you just started playing Pro Clubs in FIFA 22 or if you are already a club veteran, here, you will get helpful tips and tricks - be it how to level up the fastest, which perks are the best and so on. The veterans can scroll down a little bit, because we will start with the basics.

EA has actually brought new content for Pro Clubs. And we have to admit: It's a lot of fun to play Pro Clubs. The FIFA 22 gameplay is a different story, but the new perks and the new player development are really well done. The (quite challenging) new levelling system demands a lot from even the experienced pro. Personally, I'm a pro club main and haven't even unlocked the last perk slot yet - so there's incentive to really push through to the 1st Division with your squad.

FIFA 22 Pro Clubs: The Best Perks, Attributes, Skill Points, Line-ups, Tactics & Instructions - Tips and Tricks
First of all, we will give you an overview of the information you will get in this article:
What is Pro Clubs in FIFA 22?
What is Drop Ins in FIFA 22 Pro Clubs?
How tall and how heavy should my Pro be?
How to get skill points in FIFA 22 Pro Clubs
Distribute skill points in FIFA 22
What are Perks in FIFA 22 Pro Clubs?
FIFA 22 Pro Clubs The best Perks
Which formation is the best in FIFA 22 Pro Clubs?
Should someone play Any?
The best fan chants and goal anthems in FIFA 22 Pro Clubs

What is Pro Clubs in FIFA 22?
Pro Clubs is an 11 vs. 11 online game mode in FIFA 22, so you can play together with ten other friends in a team - but everyone controls only his own player, his Pro. You can customize your Pro cosmetically. Some gamers try to apply their real look to the Pro, others completely disfigure the player, which is just sooooo funny (ahem). As a team, find a funny name, create the club including stadium and fans, and then you're ready to go! By playing, your pro levels up automatically. The better you play, the faster it goes. With skill points and perks, you can boost your player's attributes - and help your team to win.
What is Drop Ins in FIFA 22 Pro Clubs?
Drop Ins is a mode that allows you to quickly matchmake in a lobby alone or with some buddies. You don't play for your club, but with random teammates in a team created by EA against other spontaneous players. Drop Ins is perfect if you want to level up your pro quickly at the beginning or if your friends don't have time at the moment. Don't take the mode too seriously, though, as you'll often be playing with selfish noobs on your team.

How Tall and How Heavy Should My Pro Be?
The FIFA 22 gameplay and its current meta doesn't stop at pro clubs. In general: The faster, the better. This means the following for your Pro: Make yourself smaller rather than bigger!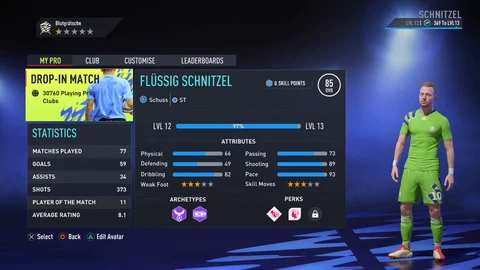 As a goalkeeper, this rule doesn't apply, there, you are welcome to set the maximum size (2.00 meters), because tall keepers are OP. Otherwise, we would recommend a size between 1.60 meters and 1.80 meters for the midfield - in the end, it always depends on your play style.

If you play striker, you should make your pro no taller than 1.65 meters and no heavier than 65 kilograms. All the top players on the leaderboard play with small pros, because speed and agility are just enormously important.

You don't even need to try to put a giant in the forward attack, because in our experience, crosses and headers are harmless.
Should you be more of a bone-crusher and play defender, we recommend at least 1.85 meters as your height. The weight doesn't play too big a role, but it's best not to go below 65 kilograms.
How Do I Get Skill Points in FIFA 22 Pro Clubs?
You get the skill points automatically after you have climbed up a level. So, you only have to play to unlock the skill points. The faster you collect XP, the faster you get skill points. Pay attention to your player rating, which is decisive for the EP. Goals and assists also count, of course, but positional play is important, especially for midfielders.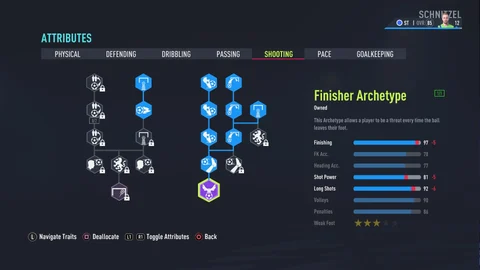 FIFA 22 Pro Clubs: Distribute Skill Points
Distributing skill points affects your pro's OVR. First of all, you should level up the Speed, this applies to every position. After that, distribute skill points to Shooting for a striker, Defensive for a defender and Passing for a midfielder. Makes sense, right? You won't be able to allocate skill points to all attributes at any given time, because skill points are limited. So, choose wisely.

FIFA 22 Pro Clubs: Archetypes
Archetypes give each different attribute a final boost once you've levelled the entire skill tree. An archetype is expensive, but it's really badass in-game. Archetypes are not to be confused with Perks and can only be unlocked with skill points! An archetype affects the OVR and the in-game stats of your player. The best archetype "Cheetah" gives +6 attack and +5 sprint speed.
| | | |
| --- | --- | --- |
| Attribute | Archetyp | Description |
| Body | Acrobat | Improves ability and endurance of jumps |
| Body | Bull | Winning physical duels |
| Defending | Guardian | Improve duels and win them without foul |
| Dribbling | Maestro | Perform skill moves with optimal efficiency |
| Dribbling | Lynx | Agile and fast movements |
| Passing | Artist | Hit outstanding crosses |
| Passing | Architect | Prepare chances near the goal |
| Shooting | Sniper | Standard Situation Luminary |
| Shooting | Finisher | Boost for completion, shooting power & long-range shot |
| Pace | Cheetah | Danger through agility (sprint + kick) |
| Goalkeeper | Hawk | TH positional play and TH pike parries improved |
| Goalkeeper | Wall | TH reactions and TH position play improved |
What Are Perks in FIFA 22 Pro Clubs?
Perks were introduced in FIFA 22 Pro Clubs and give the player special abilities for a short moment. For example, shooting, passing or dribbling is boosted in certain circumstances or game situations. You can equip up to three perks at the same time. However, it takes a while to unlock all the perks. Again, you should equip the perks based on position.
All Perks in FIFA 22 Pro Clubs
Assist Streak
Active First Touch
Skilled Dribbler
Pinpoint Cross
Precision Pass
Threaded Pass
Tireless Runner
Set Piece Specialist
Distance Shooter
One Time Shot
Set Peace Beacon
Clutch Finisher
Hot Streak
Quick Reply
Defensive Closer
Last Defender
Physical Strength
Ball Winner
Cool Head
Lock Down
Clutch Save
Fast Rush
Quick Reflex
GK One on One
GK Far Reach
Set Piece Expert
We'll be detailing all the perks in a separate article soon, keep an eye out for that on our site in the future!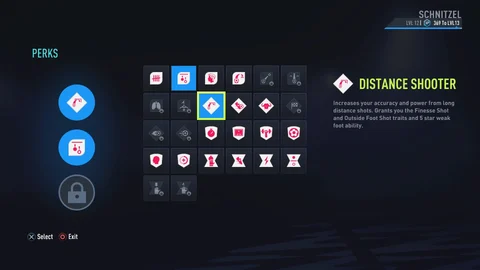 FIFA 22 Pro Clubs The Best Perks
The best perk by far is "Tireless". From the last FIFA parts, the perk is better known as "Second Air". Towards the end of the game, the stamina is refreshed, so your player can turn the tables in a game already thought lost with his running strength. "Distance shooter" is also a blatant perk that makes shots outside the 16 quite dangerous. If you prefer to play defensively, you should equip yourself with "Physical Strength" to win every duel.
CF
CAM
CM

What's the move? #TOTW 5 is live in #FUT. #FIFA22 pic.twitter.com/sKwnvY4FMp

— EA SPORTS FIFA (@EASPORTSFIFA) October 20, 2021
Which Formation is the Best in FIFA 22 Pro Clubs?
Follow the FIFA meta in Pro Clubs as well and use the best lineups! However, the formation isn't quite as important if you're playing with a full team. If you are less than six players, we generally recommend a 4 at the back-lineup, though. In Pro Clubs, the 4-1-2-1-2 formation is traditionally the best. The bots stay defensively compact in this formation. The two strikers should use a triangle on the outside to demand a ball into the run, then pass it into the middle and give their colleagues the pass. All 5-man at the back are also really disgusting, so don't be afraid to play them yourself! What we can't recommend are formations where bots play on offensive outside positions.
FIFA 22 Pro Clubs: Tactics and Instructions

Choose conservative tactics in Pro Clubs. Don't push the defense too far forward and not too wide. For the standards, you should also set a maximum of two bars.

As instructions, you distribute to the bots who play RB, LB or in the CDM, "Stay while attacking". This is very important, otherwise you will be countered by the fast forwards without a chance.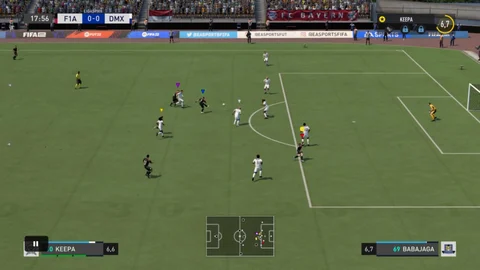 Pro Clubs: Should Someone Control all the Players (Any)?
Unless you are playing with an esports player, no one from your club should play "Any", i.e. control the bots. This often goes wrong. The bots can be controlled quite differently than players in the Weekend League. So even if someone claims to be a good gamer, don't do it. Yes, the bots sometimes screw up, but they are good defensively and can't be out skilled. Don't even try to unpack a skill move against bots. Even if you want to flex, it just doesn't work.
The Best Fan Chants and Goal Anthems in FIFA 22 Pro Clubs
Fan chants, goal anthems and modifying your own stadium is new in FIFA 22. Which fan chants you like best is up to you, of course. But there is a big international choice of possibilities, from Dortmund to Munich to Spain or England.

The coolest goal anthem is of course "Kernkraft 400" by Zombie Nation. As soon as you hear the melody, you'll know. It's insane that we had to wait so long for such a feature.
Now you should be well-prepared for the Pro Clubs mode with your club. Have fun playing, and maybe we'll meet in-game.