Everyone wants one and only very few get one. The Team of the Season is live in FIFA 23. We show you tricks and ways on how you can at least increase the chance of getting a TOT in FUT. Let's go!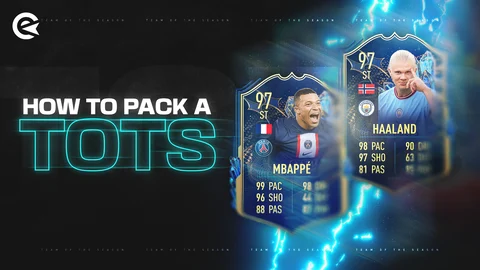 The TOTS weeks in FIFA 23 are here. On Friday, the Community and Eredivisie TOTS made their way into FUT. And EA Sports has already treated us well. The Premier League got 2 absolute banger cards with Gabriel Jesus and Bernardo Silva. The shooting stars Rodrygo and Xavi Simmons also received cards with decent stats.
When it came to the design of the cards, EA really nailed it again. But let's be honest: We don't just want to look at these great cards, we want to have them in our club. For this we need 3 things: packs, packs and more packs. We will show you how to accumulate many packs for the TOTS promo.
Well-intentioned advice first: Save the packs for your favorite TOTS. If you are a very patient person and want to get the most out of the packs, wait for the Ultimate TOTS. The best TOTS cards from all leagues are assembled in this crazy strong team.
FIFA 23: How To Pack TOTS Cards
The more packs you open, the greater your chance of packing TOTS cards. This isn't yet an earth-shattering tip for getting TOTS players, but we'll explain how to accumulate the maximum number of packs.
Fortunately, the TOTS event offers us a wide range of options for earning packs or crafting them in SBCs.
FIFA 23 TOTS SBCs: Craft Your Rewards
In FUT 23, there are several Squad Building Challenges during TOTS that we can complete to get packs. We list how you can best do this.
Daily Login SBC
No matter how busy your schedule is, set aside a minute each day for FIFA 23 and complete the Daily Login SBCs. For this, you only need a bronze player, which costs 200 coins on the FUT Transfer Market. On the one hand, the daily login SBCs guarantee a two rare 81+ player pack – on the other hand, and that's the highlight of the daily login SBCs, you get extra rewards in Objectives.
These rewards will get better with each completed Login SBC. After completing 12 Daily SBCs, you will receive a pack that is guaranteed to include a TOTS player. It couldn't be easier or cheaper.
Upgrade SBCs
In case you have a lot of gold player cards in your club, you should definitely take a look at the Upgrade SBCs. Here, you have the opportunity to get upgrade packs with guaranteed 80+ rare gold players in exchange for rare or common gold player cards.
Just as popular are the Upgrade Player Picks, which allow you to choose from several players with a certain minimum rating.
Guaranteed TOTS SBCs
You'll need a bit of luck with the Daily Login SBCs and Upgrade SBCs. With the Guaranteed TOTS SBCs, which have always appeared on Wednesdays and Thursdays in recent years, you require fodder. Guaranteed TOTS SBC Packs require teams with a team rating of 83 and above.
But if you've diligently completed Daily Login and Upgrade SBCs, you should have enough fodder in your club. Empty your club and try your luck in SBCs. It is worth it.
If you want to put your luck and patience to the ultimate test, then we recommend Elden Ring on PS5. Pulling TOTS players is child's play compared to this.
TOTS: Playing FIFA 23 Is Worth It Again
What better way than to be rewarded for doing what we all started playing FIFA for: Rewards for playing games. During the TOTS period, it's finally worth it to really try hard in FUT again.
FUT Champions
In addition to the new Division Rivals Rewards or the Squad Battle Rewards, which you should ideally grind and collect a bit, we advise you to focus primarily on the FUT Champions better known as Weekend League.
With the new season and the beginning of the TOTS period, the rewards for the Weekend League have been adjusted again. Get guaranteed TOTS Player Pick Packs for just a few wins. There are also Guaranteed Three TOTS Player Packs from the stronger TOTS of the respective week at a certain rank.

Packs From Objectives
Be sure to check the Objectives every week. You'll see that not only can you win unique special cards of some players, but also League Upgrade Packs. These packs typically feature eight or more players rated 80+ from a league. The probability of getting a TOTS from these packs is very high, since the player pool is limited to only one league. One thing is important here: wait until the respective league is in the packs before opening it – otherwise the grind was wasted.
EA has also introduced an extra Friendly Game Mode for the TOTS period, the TOTS One League Cup, in which you have to build a team with players from one league. You have five games a day to get as many wins as possible. If the matchmaking is your friend, and you win 2 or 3 games every day, you can collect better and better rewards similar to the Daily Login SBCs.
Another important note: The descriptions of the Objectives say that you have to build a complete team from a certain league, so currently a team of eleven Eredivisie players. We recommend you to use teams from stronger leagues. The victories still count towards the completion of the Objectives.
Claim Season Pass Packs In FUT
Besides the TOTS event, EA surprised us with another little promo, because now there are the TOTS Swaps. Unlike the previous Swaps events, we don't have to earn swap players, but exchange our earned XP for rewards in the Season Pass. You earn the XP by playing different FUT modes or completing SBCs.
The new season has some decent cards and worthwhile packs ready for you in the TOTS Swaps.
Take your #FUT squad to the next level with TOTS Season Swaps

Earn XP by completing in-game challenges, level up, and unlock your Swaps rewards via Season Progress.

Learn more https://t.co/Qjc1W3ZA0o pic.twitter.com/qqbrbEwc1I

— EA SPORTS FIFA (@EASPORTSFIFA) April 27, 2023
The Season Pass gives us the choice between unique special cards of players or heavy upgrade packs at so many levels. It's not an easy choice, so the general rule is: If the player fits into your FUT squad, and you're keen on this player, then there is no need to take the upgrade pack.
If you like the temptation of not knowing what to expect, then the packs are for you. Here, too, there is the prospect of one or the other TOTS player – but without guarantee.
Packs From FUT Shop
For the sake of being thorough, the FUT Shop should also be listed here. As you know, you can buy packs here for coins or FIFA Points. If you have too many coins, you might be able to force your luck that way as well. But before that, pay attention to the contents of the packs. More expensive doesn't always have to be better.
However, we advise against this method and recommend that you do not invest any money in FIFA Points. Instead, check out the TOTS Trading Guide from a professional trader to know which players will bring the biggest profits.
This article contains affiliate links which are marked with [shopping symbol]. These links can provide a small commission for us under certain conditions. This never affects the products price for you.