The skill-based matchmaking (SBMM) in Fifa 23 Ultimate Team (FUT) causes a lot of resentment among FIFA players. It should actually make FUT fairer and more fun. We'll tell you what problems the SBMM brings with it and which modes are particularly affected.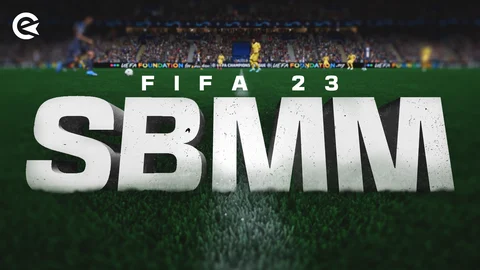 From Friday to Monday morning, you can play the WL Finals. I don't know how you've been doing in the WL in the last few weeks, but I felt that the opponents assigned to me were far more difficult than they were a few weeks ago.
It's particularly annoying when the opponent that was found for you also has really tough teams with lots of Icons and Heroes. No problem at all in the first 5 games, but right after the fifth or sixth game? Something's wrong with the SBMM, isn't it?
FIFA 23: FUT SBMM Is Reaching Its Limits In FUT Champs
Yes, the SBMM is reaching its limits! Several Reddit users have reported that they were assigned opponents with significantly better stats. In the WL, the SBMM should be most influenced by the form of the previous games, i.e. how many wins and losses you have in this WL. This is also confirmed by the EA Help website. This parameter doesn't seem to work (anymore) as it should.
There are various reasons for this. The biggest issue is probably the decreasing number of FIFA players at this time. This problem is exacerbated by the fact that many gamers have deactivated their cross play due to unpleasant encounters with PC hackers. Whatever the other reasons, the result is always the same: frustration and sweaty games for us.
FUT SBMM: Almost All Modes Affected In FIFA 23
So what can you do now once you've had enough of sweaty games in the WL? Unfortunately, it's not quite different in Division Rivals. The SBMM determines the next opponent. But in this case it's totally understandable. Because the Division Rivals mode is for players of the same skill level to compete against each other.
Then you might just wanna relax in friendlies and get "First Owner Fiesta" Objectives in the "Homegrown Eleven" mode, for example. Grab a few packs without much effort. That's the theory. In practice, there can be no talk of relaxation here either. The SBMM primarily assigns players who play in Rivals in the same division as you. This is also reflected in the teams and the skill level of the opponents. In this way, the friendlies become a slimmed-down form of FUT WL or FUT Division Rivals mode.
Don't get me wrong: For the casual player or beginners, the SBMM makes sense in order not to lose the fun of playing or to awaken the fun of the game at all.
But: FIFA players who invest a lot of time will be punished in a certain way, since they are helplessly depended on SBMM in almost all modes. If the fun falls by the wayside in most online modes, it's just fair to say that the SBMM destroys the Gameplay.
Scenes like this, in which the same (annoying) opponent is encountered over and over again, are no longer uncommon in FIFA 23:
rivalry is fading pic.twitter.com/sd9bgFOytO

— Nick (@NickRTFM) April 12, 2023
FIFA 23: SBMM Does Not Apply To FUT Online Draft Mode
At least, I still have the good old FUT Online Draft mode, where I can put together my team from randomly suggested cards. Then I can get up to four wins with the team. The more games I win, the better my rewards get. In addition, if I'm lucky in team building, I can sometimes enjoy playing an Icon Pelé or Ronaldo, which I would otherwise never be able to afford.
In most cases, in the first rounds, I finally meet opponents who are noticeably weaker than my opponents from WL, Rivals, and Friendlies. The SBMM doesn't seem to work here. In this case, it's bad luck for my opponent. I have to think selfishly now, and I'm just happy that I can finally play a relaxed game in FUT. So, if you want to play online, select a squad in Draft and enjoy it without the heaviest of grinds... until we're all in this together again...
This article contains affiliate links which are marked with [shopping symbol]. These links can provide a small commission for us under certain conditions. This never affects the products price for you.