Trophy Titans has been leaked, and it could be a completely new event coming to FIFA 23 Ultimate Team. We've got a pretty good idea how the new promo works and when it's going to be released.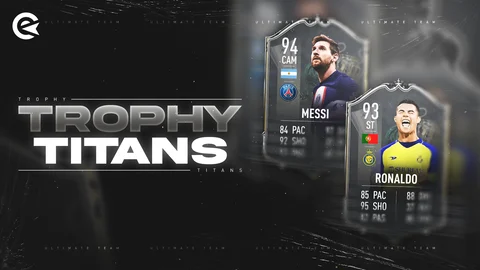 In FIFA 23, a brand-new event might be around the corner: Trophy Titans. If EA Sports decides to give out decent upgrades, this FUT promo could breathe some life into many legendary players. We'll tell you all you need to know about Trophy Titans in Ultimate Team.

FIFA 23 Trophy Titans Explained
Similar to the FUT Centurions, the name of the promo already hints at what you can expect from the featured players... but leaker @DonkTrading also provided some additional info:

Trophy Titans features the most decorated players who have ever played Football.
This obviously means that the most successful players of all time, who have won a sh*t ton of cups and trophies throughout their careers, will be part of the event. Could be one of the most hyped events of the year including new Icons and Heroes, or just another disappointment – Centurions 2.0.

If you don't want to get disappointed, just pick up the Xbox Elite Controller – in our opinion the best one to use. Not if you're only playing on PlayStation, though, then it's useless.
In any case, it doesn't sound like we'll be getting yet another event with dynamic special cards. We already have enough events like these – have you already forgotten about FUT Fantasy or Road to the Finals?

NEW Promos coming

FUT Birthday
Trophy Titans

Trophy Titians Features the most Decorated players who have ever played Football

Hyped?? #FIFA23

— Donk (@DonkTrading) March 9, 2023
FIFA 23 Trophy Titans: Release Could Be In April
The leaks haven't revealed a concrete release date for Trophy Titans so far – and EA obviously hasn't either. By taking a look at the FUT event calendar, though, we can make a pretty accurate guess of when the promo could be released.

Following FUT Fantasy is FUT Birthday – just like your own birthday this always happens during the same time period every year. After that, we're slowly but surely on the road towards Team of the Season... but there's a bit of space for our Trophy Titans event!
Depending on whether FUT Birthday will be a one or two week long event, we'll expect Trophy Titans to release in early April.

Trophy Titans: Potential Players & Leaks
Choosing players for an event called Trophy Titans, EA might be a bit more restricted than they usually are.
We've compiled a list of players that have celebrated many successes in their careers and could benefit from a new special card in FUT.

PLAYER
TITELS
WON
Gerard Piqué
36
Sergio Busquets
33
Zlatan Ibrahimovic
33
Thiago Alcântara
31
Thiago Silva
30
Fernandinho
28
Ángel Di María
26
Edinson Cavani
25
Manuel Neuer
24
James Rodríguez
24
There's a special case regarding Dani Alves – with his more than 40 career titles, he's the most successful football player of all time and definitely fits the theme of the event.
Currently, though, he's in custody after alleged sexual assault (probably every one of you has seen the news). Depending on the outcome, the Brazilian does not belong in this event, but should be banned from FUT instead.

That being said, there are some legends in FUT that can be made playable again with a hefty upgrade. Of course, Cristiano Ronaldo and Lionel Messi should also be in the table – but we believe that EA will rather save the two for TOTS.

This article contains affiliate links which are marked with [shopping symbol]. These links can provide a small commission for us under certain conditions. This never affects the products price for you.