In the new FIFA 23 FUT Birthday Swaps event, we can collect tokens and exchange them for rewards. With our tracker, you keep track of where and how you can get all FUT Birthday Tokens – and we show you the best reward combinations.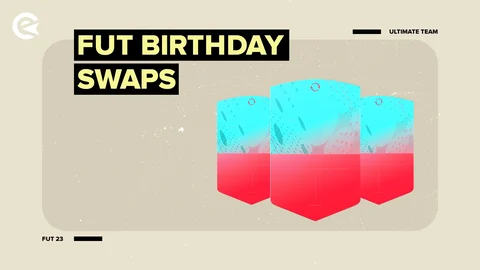 Happy Birthday, Ultimate Team. To celebrate the anniversary of the mode, which was first added on March 19 in 2009, EA is bringing a fitting promo called FUT Birthday with new Special Cards, Swaps & Tokens – and even Icons this year! All FUT Birthday players can be found here:
In this article, we will focus on the Swaps event. Find out which tokens are already live, how to get them all, and which Swaps rewards you should get with them.
The FUT Birthday rewards are live since March 27, and will be available until April 14.
The next FUT event will be already running then, but nobody is pressed for time. As usual, we get the tokens by completing tasks like First Owner Fiesta, Silver Stars, Moments Challenges, and SBCs. A total of 30 tokens will be released – and 3 more will be waiting in the shop.
Don't worry, you won't miss a token here, and can always check out what you have to do. But be aware: it's going to be a tough grind.

FIFA 23 FUT Birthday Swaps Token Tracker
We'll list all tokens in our table and describe where you can find them and what you have to do. It started with Sævar Atli Magnússon, which we all got for free once we logged into FUT.

You can play the required matches in Squad Battles (min. Semi-Pro) or Division Rivals.
NR.
TOKEN NAME
HOW/WHERE TO GET
EXPIRY DATE
1
Atli Magnússon
For Free (FUT Login)
04/07
2
Ementa
FGS Token SBC
03/27
3
Oduah
FUT Store Token: 90k Coins
03/24
4
Hofman

First Owner Fiesta (Play 7 – Win 7)

03/28
5
Gibbs
Win 3 matches in Silver Lounge
03/29
6
Aguado
Marquee Matchups SBC: Denmark vs. Finland
03/30
7
Günther
FUT Store Token: 85k Coins
03/31
8
Waleed
FUT 15 SBC
03/31
9
Ibrahim
Birthday Objective Player Joselu:

4 matches w. 2 goals per match

03/31
10
Silvera
Birthday Party Objective: 4 Goals

with Finesse Shots (R1/RB)

04/07
11
Jurcec
Complete Daily Login SBC x4
04/07
12
Isac
Complete Daily Login SBC x7
04/07
13
McGlynn
Complete Daily Login SBC x10
04/07
14
Priso
FUT 16 SBC
04/01
15
Ewolo
FUT 17 SBC
04/02
16

Gallacher

FUT 18 SBC
04/03
17
Bentil
Win 1 match in Homegrown Eleven
04/04
18
Mazag
Marquee Matchups SBC: PSG vs. Lyon
04/06
19
Al Rashidi
Marquee Matchups SBC: Napoli vs. Milan
04/06
20
Ngoy
FUT 19 SBC
04/07
21
Mouanga
Win 2 matches in the Live FUT Friendly: FUT Birthday Cup.
04/07
22
Suk Lee
Play 4 matches in the Live FUT Friendly: FUT Birthday Cup.
04/07
23
Opsahl
Play 8 matches in the Live FUT Friendly: FUT Birthday Cup.
04/07
24
Hajrizi

FUT Birthday Objective Player Hincapie – Bundesliga Eight

04/14
25
Smith
FUT Store Token: 85k Coins
04/07
26
Nwadike
FUT 20 SBC
04/08
27
Diaby
FB Draft Challenge – Play 1 Offline or Online Draft match
04/20
28
Sabetkar
FUT 21 SBC
04/09
29
Ogie
FUT 22 SBC
04/10
30
Davi
Win 1 match in Homegrown Eleven
04/11
31
Tsilingiris
Win 3 matches in Silver Lounge
04/12
32
Maher
Marquee Matchups SBC: Celtic vs. Rangers
04/13
33
Cosgun
FUT Moments
04/14
All 33 tokens have been released! You have until 14 April to collect and trade in your swaps. We will now show you how best to use your tokens.
FUT Birthday Swaps: Full Rewards List And Best Token Combinations In FIFA 23
EA announced the first two rewards in their message for the FUT Birthday Event. However, no leaks for further rewards made the rounds early on. That's nice, EA! It looks different with your upcoming game, though...
NUMBER OF TOKENS REQUIRED
REWARDS
1
11x 81+ OVR Pack
2
Hernán Crespo WC Icon (89 OVR)
3
FUT Birthday Team 1 Pack
5
20x 82+ OVR Pack
10
10x 85+ OVR Pack
15
87+ Player Pick
(RTTF, Fantasy Hero o. Player, FB Team 1)
17
Rio Ferdinand Prime Icon (90 OVR)
20
Two 20x 84+ OVR Packs
20
Alan Shearer Birthday Icon (92 OVR)
27
90+ Prime Icon Player Pick
FUT Birthday: Best Swaps Rewards
You shouldn't even think about getting Hernán Crespo and/or Alan Shearer. While Patrick Vieira was a massive W in the World Cup Swaps this two are just not good enough. You should rather focus on those packs.
Obviously, you don't know what is waiting in packs, and the chance of getting useless fodder is high. But you can use those players for the best Icon SBCs and get Johann Cruyff, Rivaldo or Gianluigi Zambrotta – which are better than this Swaps Icons and will upgrade your squad.
Depending on how many tokens you get in total, we got a full list of recommendations and combinations:
| | |
| --- | --- |
| TOKENS | REWARD COMBINATIONS |
| 5 | 20x 82+ OVR Pack |
| 10 | 10x 85+ OVR Pack |
| 15 | 20x 82+ OVR Pack & 10x 85+ OVR Pack |
| 20 | Two 20x 84+ OVR Packs |
| 30 | 20x 82+ OVR Pack & 10x 85+ OVR Pack & 87+ Player Pick |
We go for 15 or 20 tokens in total as we don't need any more players and only use them for SBCs. With 20 tokens, you'll get 40x 84+ players – in our opinion the best reward in Birthday Swaps.

This article contains affiliate links which are marked with [shopping symbol]. These links can provide a small commission for us under certain conditions. This never affects the products price for you.