EA Sports is way up there when it comes to failing and screwing things up. Especially this season. FIFA 23 was released a full month early - the start of a wild journey of glitches from EA. Especially in Ultimate Team, things are really going wrong. We'll show you exactly what EA Sports has done this year.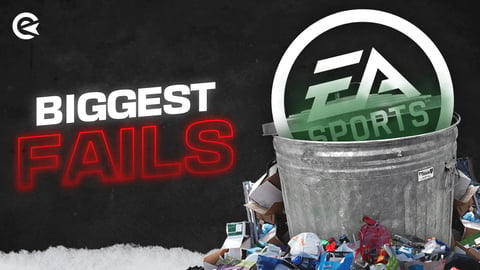 FIFA 23 marks a new milestone in the history of fails from EA Sports. Early leaks like the Team of the Year and the TOTY Icons has already become the norm for the FIFA community. Anyone playing Ultimate Team knows enough about EA fails anyway. Wrong cards in packs, incorrect ratings that need to be corrected, or the game simply being released too early.
EA isn't exactly the best example when it comes to being professional about one of the biggest games in the world. We're taking a look at all of this year's FIFA 23 fails today, so stay tuned, it's going down!
The Biggest Fails From EA Sports In FIFA 23
EA is back again with it. Has there actually ever been a game without mistakes? I don't think so. Here are the biggest fails in FIFA 23:
1. EA Unlocks FIFA 23 On Xbox Ahead Of Release
This was one of the biggest fails in a long time. Xbox's players were able to play FIFA 23 a full month before the actual release. At the time of the error, players with pre-orders had access to the entire game and could, among other things, get into the Ultimate Team mode.
Of course, then the EA memes and leaks about FIFA 23 ratings and much more went viral. We were able to finish our FIFA 23 Top 100 ahead of time, but this does make us wonder what EA is actually happening internally within EA.

2. Unable To Complete SBCs in Ultimate Team
The Web App allowed players to complete 23 SBCs before the release of FIFA. But a number of bugs caused frustration in the community.
The list of issues surrounding the SBCs was pretty long. Main problems were that challenges could not be submitted. Other challenges could not be solved at all. What a letdown, the early stages of FIFA 23 were...
According to the FIFA pros SebFut and Rannerz, making the rewards from the first SBCs untradable was definitely a method by EA, so that FIFA Points became more attractive right from the start. Not a cool update, EA!
3. Hero Pack Fail
Not even a month out and the EA fails just won't stop. You may remember the Hero Pack Fail for just 25,000 coins. The whole thing was only online for about 15 minutes, but of course thousands of players accepted the gift.
Logically, then, that the transfer market collapsed. But not everyone was lucky: many missed the pack, on top of that the value of the team went down. Huge L for players with Hero cards. Until today, there has been no feedback from EA on the incident. Unbelievable!
lol pic.twitter.com/wEeDUB6u1j

— boogie 𖤐 (@noheartkirk) October 8, 2022
4. World Cup Mode There Too Early
There was a way to make it possible to access the World Cup mode in FIFA 23 before the official release. I really wonder how this can happen? It's just crazy!
The FIFA 23 World Cup mode was not only leaked a month earlier (like every other event in FIFA), but was also available for PlayStation players with a simple trick and was even PLAYABLE, Wtf!
5. Black Friday – Wrong Price Ranges
And once again, EA messed up. Shortly before the start of the Black Friday promo in FIFA 23, EA messed up a lot. Overnight, they adjusted the price ranges of some popular Team of the Week cards. However, the whole thing was clearly too low and just wrong. Many players lost a lot of coins because the affected informs were put on the market too cheaply by their unknowing owners.
Players with running transfer lists were the ones losing. Most of the time all players can be offered again with just one click, without checking the price of a card again. Inform cards like Ousmane Dembele, Theo Hernandez and Wissam Ben Yedder were sold for prices like 20,000 coins.
6. Wrong Icon Faces In-Game
Once again, there were a lot of complaints in the FIFA community: Some of the then new World Cup Icons just looked awful. But that wasn't really surprising. Something that EA just screwed up.
Some Icons looked nothing like themselves and resembled NPC's. Didier Drogba, meanwhile, was running around in the look of Paolo Maldini. Very strange! Fortunately, the bug has now been fixed, even if it took some time.
Please @EASPORTSFIFA. Please. Please. Please pic.twitter.com/NRzEJ24vww

— bateson87 (@bateson87) November 27, 2022
7. Hackers In FIFA 23
It's not just EA Sports that's really pissing off the FIFA community this year, but also, of course, the hackers. Be it in the Weekend League or hacking accounts, they are everywhere by now. Be careful! Big streamers have already been hacked.
But not only the hacking of accounts is a huge problem in FIFA 23. More and more players are also reporting cheaters in Division Rivals and in the WL. There are mostly PC players, so best turn off your Crossplay to avoid this issue!
8. Stats Are Secretly Nerfed
As if the FIFA 23 Centurions weren't bad enough, they've been made even worse. In particular, the popular Zlatan Ibrahimović. EA has adjusted important in game stats of the Centurions Team 2 players without informing the community.
With the Centurions, some things had to be corrected on Team 1, we're thinking of Trent Alexander-Arnold's pace stats. But that can't be compared to the secret adjustment of stats. The price of Ibra and Co collapsed, and many people lost millions of coins...

Let's hope that things will be different in the next instalment at the latest. EA will deliver EA Sports FC to us in autumn 2023, while we will get the new FIFA 24 from FIFA. Exciting times for the future.
Which fail triggered you the most? Let us know in the comments!
This article contains affiliate links which are marked with [shopping symbol]. These links can provide a small commission for us under certain conditions. This never affects the products price for you.