FIFA 23 is the first game in the entire series to include widespread crossplay features. Since its release in September, console and PC players are able to activate crossplatform and play against each other. In this guide, we'll show you how to do so and which platforms can be connected.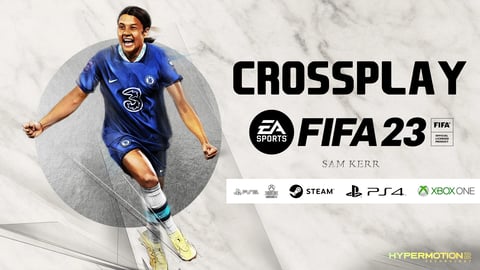 In FIFA 22, they tested it... in FIFA 23, it's one of the biggest features: for the first time in the history of the franchise, a cross-platform feature is supported in various modes. Finally! You really couldn't play with your friends for decades if one was on PlayStation and the other on Xbox.
It is finally possible to play games together on different consoles. But not every platform can be connected with each other... We've got all the info on how to enable and disable crossplay and which platforms can play together using the cross-platform feature.

FIFA 23 Crossplay: How Cross-Platform Works On PlayStation, Xbox & PC

The major question is which platforms can be connected via crossplay in FIFA 23? There is a simple, but kinda sad answer and explanation. Only next-gen consoles and PC players can play with each other – "old" consoles have to stay among themselves.
The differences in technology between current- and next-gen is simply too big. Hypermotion 2 is only available for the new consoles and PCs.
How To Enable And Disable FIFA 23 Crossplay
You can enable and disable crossplay in FIFA 23. If you simply don't want to play against people from a different platform, you can deactivate crossplay. To do this, you have to press the R2 or RT Button in the main menu to bring up the crossplay menu. Now, you can enable or disable crossplay.
There are actually some benefits of having crossplay deactivated – just look at some FIFA pros, who want to play with better connections or perhaps against easier opponents. On top of that, the chance that you have to deal with unfair exploits and hacks is significantly lower.
Crossplay: Platform And Game Modes Overview
Here you have a short overview on which game modes and platforms actually support crossplay in FIFA 23.

Platforms:
PlayStation 5 with Xbox Series X|S
PlayStation 5 & Xbox Series X|S with PC
PlayStation 4 with Xbox One
Game Modes
Online Friendlies
Online Seasons
FUT Friendlies
FUT Rivals, Draft and Champions
Of course, the FUT transfer market, which is connected across the platforms for the first time, is particularly interesting. All console players (PS4, PS5, Xbox One and Xbox Series) share one player pool. PC and Nintendo Switch players on the other hand have their own market prices.
No Pro Clubs Crossplay In FIFA 23 – Still No Update In Sight
The fact that all modes feature crossplay, except Pro Clubs, is just another silly EA thing. Even though EA has announced that crossplay for FIFA 23 Pro Clubs could be implemented via update a lifetime ago, nothing has happened, yet.
It sucks that there are still not enough PlayStation 5 consoles, and we're almost being forced to switch to the next-gen platforms. Depends on your closest friends and FIFA mates. If everyone is on the new PlayStation or Xbox, you're staring down the drain. To close out this article, we have a tip on how you can play FIFA 23 on PS5 with PS4 players.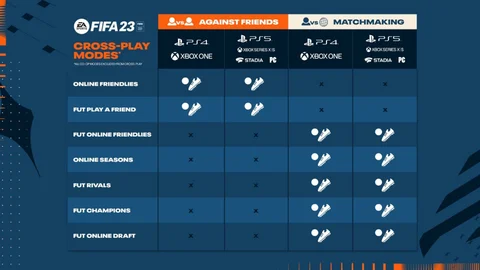 How PS4 And PS5 Players Can Trick Crossplay
In FIFA 22, you could "bypass" the crossplay feature on your console by downloading the PS4 version on your PlayStation 5. This way, you and your friends could actually play together – even if one's using a PS4 and the other a PS5. Luckily, FIFA 23 didn't fix this simple trick and you can still try it! Nice.

This article contains affiliate links which are marked with [shopping symbol]. These links can provide a small commission for us under certain conditions. This never affects the products price for you.