With Amazon Prime Gaming, you can get free rewards for your FIFA 23 Ultimate Team – you just need to link your EA account. We show you how to do this and which rewards you can get every month. Prime Gaming Pack #4 for January is live now!
The season in FIFA 23 is on its way, and with Amazon Prime Gaming (you may still know it as the "Twitch Prime Pack") we get free packs in FUT. Twelve are waiting for us in total, and especially in the first few months of the new FUT season, these rewards can be enormously helpful.
We will show you step by step what rewards you can get this time and how you can claim them.
FIFA 23 Prime Gaming Pack #4: Release in January
The fourth Prime Gaming Pack in FIFA 23 is available since Monday, January 23rd. New packs always appear on Mondays and always around the 20th of each month.
You can claim it after you have successfully linked your Amazon and EA account. The process is worth it, because even if there is only waste waiting in your packs, you can still use these players to complete Squad Building Challenges. How and where to claim them can be found further down in this article.

Prime Gaming Rewards in January

Perfectly in time for the TOTY in FIFA 23, EA and Amazon have released the fourth version of the Prime Gaming Pack. However, the rewards are getting a bit worse compared to last times.
We get seven rare gold players, two 82+ player picks, twelve rare consumables, and one Karim Benzema loan item for 30 matches. What we are missing are the player choices in which we can pull special cards. Or a TOTY loan player for X games. They could have included a TOTY Messi (on loan) to support us in the Weekend League and make our teams better. Who needs a normal Benzema in January...
Either way: there is a chance that a TOTY Icon could be waiting for you, so... make sure you can get the rewards.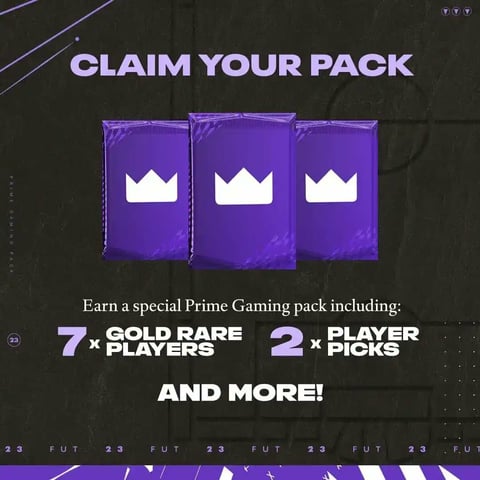 How To Link Your EA Account With Amazon Prime Gaming
The first step to claiming your rewards is linking your accounts. To do so, you have to go to the Prime Gaming website, where you then log in to your Amazon Prime Account.
Once you created your Prime Account, you have to link that to your EA Account. Make sure to log in with the same account you used to log into the Companion App, for example. Before doing this, make sure you have your login data ready.
How To Claim Your Prime Gaming Rewards
There are several ways to do this, the easiest probably being that you go to the "Games and Loot" category on the Prime website by clicking on your personal account in the top right corner. Then you should see the latest FIFA drop. If you click on our Prime Gaming link above, you will be taken directly to the FIFA site.

Then click "Claim" and follow the instructions (EA log in – back to Amazon – claim rewards).
After you've collected your rewards, all you have to do is log into Ultimate Team in FIFA 23 and go to the shop. You can find your Prime Gaming Packs under the My Packs section.

This article contains affiliate links which are marked with [shopping symbol]. These links can provide a small commission for us under certain conditions. This never affects the products price for you.