FIFA Ultimate Team has always been pay-to-win. But with our trading guide, you don't have to spend real money to make lots of coins. Here are our trading tips for the Road to the Final Promo in FIFA 23. We show you which players you should buy.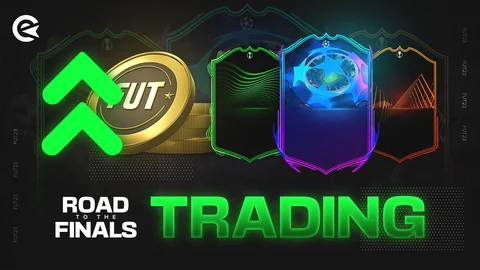 The Champions League and Euro League are already entering the next round. The draws are fixed. While FC Bayern is very unlucky and has to play City. Clubs like Real Madrid or Bayer Leverkusen get a free ticket to the final. The perfect opportunity for you to make yourself some coins. You can find out exactly how the whole thing works and what you should pay attention to here!

But one thing has to be said first. Trading always involves risk and the tricks and tips we share here are not 100% guaranteed. The FIFA transfer market is mostly predictable, but not always. Especially not when EA messes up again.

RTTF Trading Guide In FIFA 23
The RTTF cards are dynamic special cards, Players get an upgrade to their standard stats at release and can then increase further.

The upgrades are awarded according to the results of the teams in real life. So it makes sense to trade with these: the further they get in their competition, the better and more expensive their card will be. All current ratings and upcoming upgrades for the Road to the Finals cards can be found here:
Things You Should Know
The most important thing about dynamic cards trading is timing. It is important to know when to buy and when to sell. We recommend that you now buy the players before the upcoming Champions and Euro League games. Of course there is a high risk here, but only those who take risks can also win big.

Now, of course, you want to know when is the best time to sell your players. There are several options here. Obviously, when the card has gone up, and you'll make a profit, go for it. But keep in mind that EA will charge 5% from you when you sell!
Let's say your player's team is playing and wins or advances. This is exactly where you need to be smart and sell on the hype.
One option would be to invest in a good card for a long time and only sell it after several upgrades and later games. Of course, should your player improve significantly, his card will also be much better and more expensive.
But if you want to try this technique, you should go with clubs that have a better chance of getting far. Real Madrid, Manchester City or FC Bayern would probably be your best chances.

Now let's take a look at possible candidates for RTTF trading.
The Best RTTF Players To Trade With
One of the most important things when trading RTTF cards is to keep an eye on the cards and games. It is best to make sure that you switch on notifications for the games of your investments, and also pay attention to the prices of the cards on futbin. The timing of buying and selling a player determines whether your trade will be successful. So always keep your eyes open. It can be really frustrating when you realize too late that you should have already sold your player.
David Alaba
Real Madrid is just on fire, right now. Next up is Chelsea and then in the semi-finals Inter or Benfica. We say the final is guaranteed, and so as you would expect, the price is high. This investment could definitely be worth it in the long run!

David Alaba should therefore still go to at least a 93 OVR. That would be stats of almost 90+ everywhere. Crazy!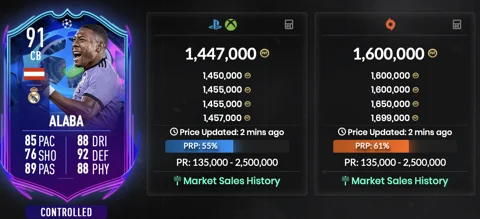 Anthony Martial
Let's take a look at the Euro League: Manchester United are favorites in the quarter-finals against Sevilla. Martial looks like another good investment. In the semifinals, it will probably be Juventus. Then it gets harder, still possible.

Federico Chiesa is also a notable option here. Let's see who will make it into the final in the end. Look at these cheaky stats: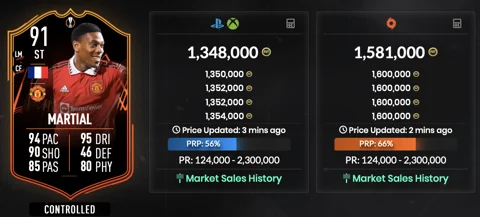 Kalvin Phillips
Manchester City vs Bayern Munich. What a game. You might as well go with Leon Goretzka here. Nevertheless, we also wanted to give you a slightly cheaper card to choose from, and we tend to go with City. In the semifinals, they would then meet AC Milan or Napoli. The final is close for the winner of the game, Bayern vs. City.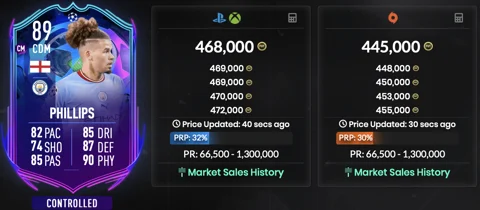 At the end of the day, how and with whom you trade is up to you. You should also make up your own mind and keep an eye on players and their prizes.

It's harder than ever to predict the FIFA market, so you also need to be aware that some trades can also go wrong. And since the international competitions have their very own laws, it is extremely difficult to predict a sure title candidate.

But whoever dares, wins. Good luck trading, we hope you found this helpful.

Who will you trade with?
This article contains affiliate links which are marked with [shopping symbol]. These links can provide a small commission for us under certain conditions. This never affects the products price for you.