Get XP in FIFA 23: The focus of the TOTS Season Pass lies in TOTS Swaps, allowing you to conveniently exchange accumulated experience points (XP) for various rewards. Here's a speedy method to level up swiftly, enabling you to obtain packs and players.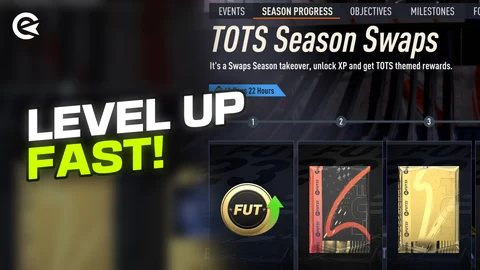 The TOTS event gave FIFA a boost. Playing FUT is finally worth it again. This is mainly due to the tasty new rewards:
These rewards are very tempting, but they come with a small downside. All of these game modes require us to win games in order to get better ranks, thus getting better rewards.
With the new TOTS Swaps Season Pass, that's a thing of the past, because here you can easily get your rewards. Although "playing" is almost an exaggeration, because for the majority of the experience points (XP) you don't even have to play.
These players could be yours very soon with our guide.


Take your #FUT squad to the next level with TOTS Season Swaps

Earn XP by completing in-game challenges, level up, and unlock your Swaps rewards via Season Progress.

Learn more https://t.co/Qjc1W3ZA0o pic.twitter.com/qqbrbEwc1I

— EA SPORTS FIFA (@EASPORTSFIFA) April 27, 2023
How To Get XP In FIFA 23: Level Your Season Pass In FUT
Earning XP without playing games? If you're wondering how this is supposed to work, just look at the Objectives category.
Here, under the TOTS Season Swaps section, you can find all the tasks that fill your XP account right away.
SBCs To Get Season Pass XP
You will see that you can generate experience points en masse just by completing newly released SBCs once.
The following SBCs offer XP:
TOTS Swap Challenge
Daily Login Upgrade
Marquee Matchups
Note: The SBCs that bring Season Pass XP will even have an [EP] on them. This way, you can make sure that the SBC you complete will also bring you XP.
Play For Season Pass XP
OK, you still have to play a bit of FUT to earn all XP. But as mentioned at the beginning, you don't have to get wins in FUT Champions, Rivals, or Squad Battles for most XP.
You should play at least one game every day and score 3 goals at best, because by doing so you will complete the Daily Objective, which will give you a small amount of XP. But everyone knows: It's the little things in life.
Most of the time, the smallest things are also the most useful things. This small wallet fits in any trouser pocket.
FUT Friendlies:
Play these games in FUT Friendly Match mode. In the Silver Lounge, you can not only unlock a TOTS player with decent stats but also earn over 1000 XP with 3 wins! Moreover, the matches are usually not as intense as in the Weekend League.
Moments Game Mode:

In the Moments Game mode, you'll likely earn experience points even faster. Here, you only need to earn five stars. We recommend completing tasks where you need to score a certain number of goals or assists. It often takes around two minutes per Moments game. Once you've earned the required number of stars, you'll automatically receive your 1250 XP.

To get even more packs even faster, we recommend our TOTS Guide.
FIFA 23 TOTS Season Pass: Swap Your XP For Rewards
Work before pleasure. If you've followed all of our advice, you should easily be up four or five levels in the Season Pass. With each new level, you'll get rewards that are sometimes better, sometimes worse. Claim the reward and enjoy new packs, players, or designs for your club.
This article contains affiliate links which are marked with [shopping symbol]. These links can provide a small commission for us under certain conditions. This never affects the products price for you.