EA has started the TOTS vote in FIFA 23. We show you all TOTS you can vote for and tell you when, where and how to cast your ballot for your Team of the Season favorites in FUT. Community TOTS is closed, next up: Premier League.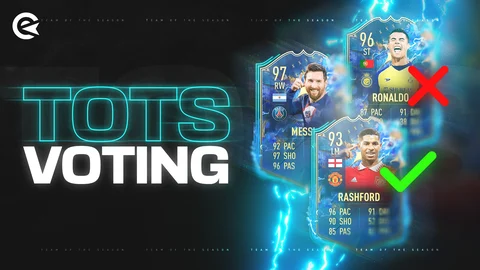 TOTS features the very best players of the Season in FIFA Ultimate Team. EA has started the vote in FIFA 23. We got all leagues and release dates for you – and got a link where you can easily choose your personal TOTS squads. The final release dates are not yet known, but we made some predictions with the dates from last years:
FIFA 23 TOTS Vote: Release Dates
As usual, EA starts the TOTS time with the voting for the Community TOTS. This selection focuses on players who have consistently performed well throughout the season but have received no more than one performance-based specialty card in FUT like TOTW or MOTM.
In total, we can vote for four different leagues this year. Sooo many though choices will have to be made....
TOTS Vote In FIFA 23: All Leagues – Premier League On Monday
Here you can see all leagues and votes in FIFA 23. Voting takes place on the EA website.

Click through the list to get to the vote of each league.
| | | |
| --- | --- | --- |
| TOTS VOTE | RELEASE DATE | LIVE UNTIL |
| Community | April 10, 2023 | April 13, 2023 |
| Premier League | April 17, 2023 | April 20, 2023 |
| Bundesliga | April 25, 2023 | April 28, 2022 |
| La Liga | May 1, 2023 | May 5, 2022 |
| Serie A | May 15, 2023 | May 18, 2023 |