Do you want to play seek and hide and seek with your friends in Fortnite? Then you are right here. Because we have a list of the best Fortnite Hide & Seek Map Codes for you.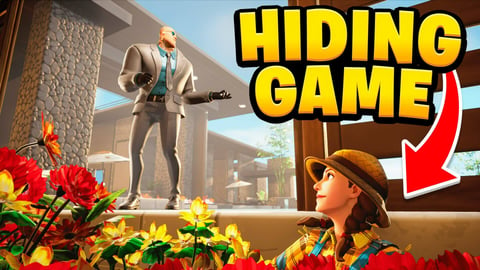 Hide & Seek is perhaps one of the most famous and popular games to play in Fortnite creative mode. This very fun Fortnite mode allows you to play the aptly titled game with other players! Fortnite players love the classic game of hide-and-seek on beautifully designed creative islands where they can have fun with their friends without shooting each other.

We explain how Hide & Seek works in Fortnite and introduce you to some of the best Fortnite Hide & Seek maps.
Hide & Seek explained in Fortnite
Hide and seek is a classic children's game that has been played for as long as you can remember. The goal is to hide from the seeker until time runs out. If you can do that, the hiding guys win. If the seeker finds all players before time runs out, he wins the game. Simple game principle.

All of this translates pretty well to Fortnite. On a rainy day, hide and seek can be played in-game instead of out in the real world. We've handpicked some of the best Fortnite Hide & Seek codes to narrow down your options so you don't have to search too far.
The best Hide & Seek Maps in Fortnite
Here is our list of the best Fortnite Hide & Seek Maps. To play any of these maps, simply enter the code in the "Island Code" section of Fortnite and you're good to go.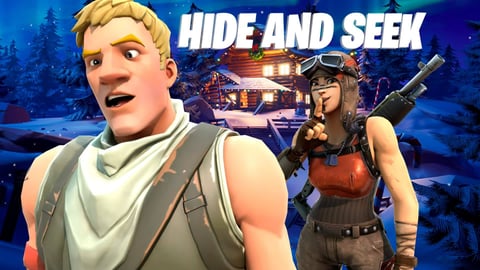 Mansion Mayhem Hide & Seek: 7035-2787-5434
Mansion Mayhem was first created in Chapter 2. But the creator is busy working on it all the time and always brings out remakes of the popular map!
While the map itself seems super easy to traverse, there are tons of hiding spots that no one would think of at first glance. That's what makes the map so exciting! Can the seeker uncover all the vest corners?

The Mall is Closing Hide and Seek: 3227-8700-3877
If you are a fan of the Netflix series "Stranger Things" then this map is for you! The Mall is Closing Hide and Seek transports you to the iconic Hawkins Starcourt Mall. Embark on a nostalgic journey back to the 1980s and discover all the mysteries it has to offer in this exciting game of hide and seek. There are many... well, let's say strange things to find!
Honey, I Shrunk the Skins – 7133-6656-4742
The name of this map already tells you what to expect, but just in case you don't, here's the gist: On this map, all seekers and hiders have been shrunk! So while you're pretty tiny, all of your surroundings are normal-sized. It gives you quite a grounded vibe and we love it!

Mountain Mansion Hide and Seek: 3548-1991-7161
Fancy playing Hide & Seek in a luxurious mansion in the mountains? Then this map is just right for you. Up to 16 players can play here and there are plenty of hiding places to discover in the many, many rooms of the building.
Carnival Hide and Seek: 8698-8038-7328
One of the best creative maps ever! Everything you would expect from an amusement park is here, from a roller coaster to a hall of mirrors to the love tunnel that offers endless hiding places - and yes, you can even climb a Ferris wheel.
And that's it. We hope you like our little map selection.
For more on Fortnite:
This article contains affiliate links which are marked with [shopping symbol]. These links can provide a small commission for us under certain conditions. This never affects the products price for you.