Want to quickly level up your Battle Pass? Then here we have a list of the best Fortnite XP Maps for you.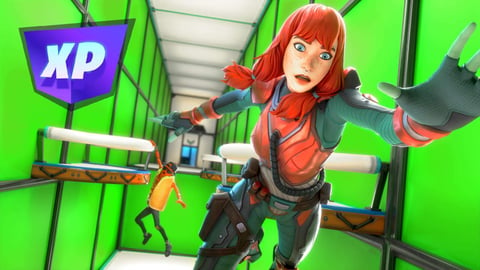 Fortnite's popular creative mode was first introduced by Epic Games in 2018. This mode gives players the freedom to create the map of their dreams. And of course the players have let off steam enormously in the last four years. Some of the most popular modes include Prop Hunt, Escape Rooms, and Gun Games. But the coolest thing is that you can also farm a lot of XP for your Battle Pass in some creative maps!
So today we have the best Fortnite XP Maps for you.

XP Maps in Fortnite explained
Earning XP is the only way to level up in the Battle Pass and therefore the only way to unlock rewards in the Battle Pass. Unfortunately, the weekly challenges, which are actually the best way to earn XP, can be a little annoying to complete at times.
Therefore, there are some creative maps that will give you up to hundreds of thousands of XP in just a few seconds. This works either through bugs or by completing some challenges within the maps. Let's take a look at some of them.

The Best XP Map Codes in Fortnite
Here is our list of the best XP game maps. To play any of these maps, simply enter the code in the "Island Code" section of Fortnite and you're good to go.
707 Level Deathrun: 8630-1873-5089
This map is a Deathrun, one of the most popular Fortnite game modes. Your goal is to finish this map before everyone else.
As you can imagine, it's not that easy. Traps, moving floors, and subtle surprises will do everything to stop you. But should you make it, you have a chance to earn 40,000 XP! So dare and try your luck.
Legends Landing: 3303-7480-5925
In this map you can use a bug to farm XP. Once on the map, find the elevator and go to the second floor. From there you will see a tree right in front of you. Sprint and jump to land on the tree. After that you have to fly your glider to the cylindrical wall to the right of the tree and climb up.
Exit the building at the back and keep going straight until you find an XP device behind the island. Get on the device on the right and start jumping. XP is awarded for each jump. You can find detailed instructions in this video:


Zombieland: 9369-6922-8408
Nop, this is not a knock-off from the popular zombie flick Zombieland. But you will still fight against the hoards of zombies that keep coming at you.
The map has five different levels and on each level the zombies get stronger. With the gold you collect, you can buy better weapons. But this is not a PvP map. In fact, you fight with other players against zombies controlled by an AI.
You can play this map for hours. It's perfect for gaining XP while chilling out a bit.
Halloween 1v1 Build Fights: 1004-5222-9786
There is actually an AFK XP button on this map. You just have to interact with her to collect XP. It is on the pumpkin in the northwest section of the map. Another button is on a pumpkin in the northeast section of the map.
You can also wait ten minutes and build ten floors next to the pumpkin in the southeast part of the map. This will take you to a secret room where there are two buttons. Interact with both of them to get the maximum amount of Fortnite XP.
1v1 Mythic Build Fights: 5252-1751-0646
This is probably one of the best XP maps out there as it gives you many different ways to earn XP.
On this map, there is a button in the corner on the right side of the platform. Interacting with it will trigger the XP. There are three buttons on the wall to the left of this button. These offer further, different XP methods.
One of them leads to an AFK room that lets you farm XP automatically. The other button takes you to an XP room where you have to interact with different points to get XP. You can use any of these methods and even repeat the steps as many times as needed.
Keep in mind that Epic could disable XP farming on glitch maps at any time. But while they're active, be sure to take advantage of them!