The cutest dino ever could return to the Fortnite island. Klombo! Let's see what happened to him and whether he'll be coming back to the new chapter.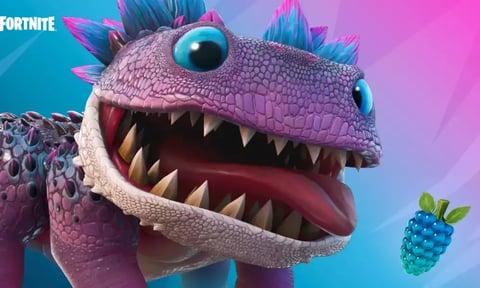 One of the cutest creatures in Fortnite ever: Klombo, the peaceful dino found on the map in Chapter 3 Season 1. But where is he? Is he coming back Chapter 4 Season 1? Who is Klombo anyway? Lots of questions, which we will now clarify.
Will Klombo return in Fortnite Chapter 4?
In Chapter 3 Season 1, Klombo was still groping around the map and cheering up players. But in Chapter 3 Season 2 he disappeared without a trace, only his skeleton remained. So he's dead, isn't he? Well, not quite...
With his favorite food, logberries, not yet removed from the game, the Fortnite community is hoping for a comeback of the popular dino. A resurrection of the dead, so to speak. If this happens, you can read about it here.
But who or what is this Klombo?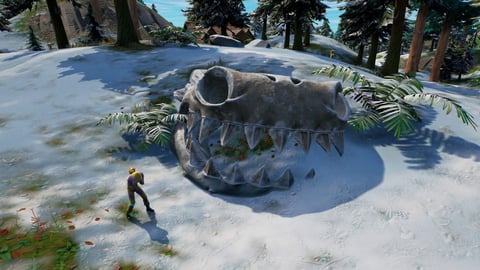 Fortnite: Klombo explained
Klombo is a giant dino running around the map. With a cute face and clumsy legs, he is, among other things. a highlight of every match. Since he is a peaceful creature, he will not attack you. You can feed him Klomberries and he will give you a weapon, ammo or consumable. There is also a kind of geyser on his head, which works like a jump pad.
But the dinosaur is by no means defenseless. As soon as a player attacks or shoots him, he gets angry and defends himself. This usually happens in the form of an acid that he spits out and can kill players in seconds. However, he himself cannot be killed by players because his life bar is infinite.
But then how could he die at all?
How did Klombo die?
There are many theories about Klombo's death. The most plausible: he buried himself underground during the war between the Seven and the IO Guards. But since he couldn't get any food here and the war lasted a long time, he starved miserably.
Whether we can look forward to a comeback is not yet certain. We can only hope for the best!
For more Fortnite: