This summer, Marvel and Fortnite fans can look forward to an epic interdimensional battle in the Fortnite x Marvel: Zero War Comic series.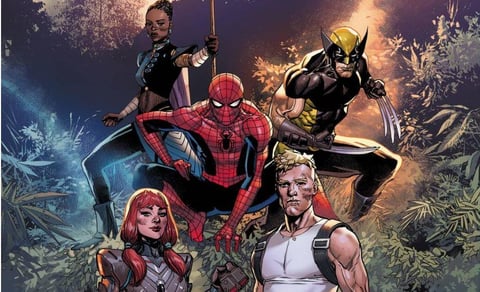 Following the success of the Fortnite x Marvel Nexus War: Thor comic, the current miniseries in collaboration with Fortnite features some of Marvel's biggest heroes including Spider-Man, Wolverine, Iron Man, and Shuri.
Veteran Marvel writer Christos Gage (Spider-Geddon & Avengers Academy) teamed up with Epic Games Chief Creative Officer, Donald Mustard, and artist, Sergio Davíla (Captain Marvel), to write a five-issue comic book mini-series with huge implications for both universes! As always, each first print issue includes a redeemable code to unlock digital cosmetics in Fortnite.
Let's dive into the details of Fortnite x Marvel: Zero War.

The Story of Fortnite x Marvel: Zero War
The story of the comic follows the inhabitants of the island, who are trapped in a seemingly never-ending war. Only one thing has the potential to turn the tide of this war, a crystallized fragment of the Zero Point. The heroes need this fragment to stabilize the Marvel universe and end this unending conflict.
Spider-Man and Wolverine team up with Shuri and some fan favorites from Fortnite to find this elusive Zero shard. Will these allies be able to find it in time and avert disaster? Can the heroes of Marvel and Fortnite stop the IO?

Well, to find out, I guess you'll have to read the comic!

Fortnite x Marvel: Zero War Release Date
The five issues of Fortnite x Marvel: Zero War #1 will release starting in June and translated versions will be available worldwide at the same time as the English release. These are the release dates for all issues:
| | | |
| --- | --- | --- |
| 1st issue: | 08 June 2022 | Spider-Man Zero Outfit |
| 2nd issue: | 13 July 2022 | Iron Man-based Wrap |
| 3rd issue: | 17 August 2022 | Wolverine-based Pickaxe |
| 4th issue: | 31 August 2022 | Spray based on Fortnite x Marvel: Zero War |
| 5th issue: | 28 September 2022 | Loading Screen based on Fortnite x Marvel: Zero War |
The Free Cosmetics From Fortnite x Marvel: Zero War Comic
Issues of Fortnite x Marvel: Zero Point War will be available in print format at comic book stores and digitally through the Marvel Comics app and Marvel Unlimited. Each print issue will include a code for a free Fortnite cosmetic item that you can redeem at fortnite.com/redeem.
Important: You will not receive a code for a digital issue.
After the release of the first three issues, the Cosmetics will be available in Fortnite's item shop. The 4th and 5th edition Cosmetics will be comic-exclusive items. For a limited time, paying subscribers with a registered account who have purchased all five issues will unlock a code for an additional Fortnite outfit! (This Outfit will also be available for purchase in the Item Shop.)