The whole Team 7 of Naruto is finally coming to Fortnite and they brought some decent ninja stuff with them! Here are all the details about the new Naruto cosmetics, the prices and how to get them.
Before we talk about Naruto... Did you ever have a deep thought about ninjas? Maybe every nation has its own group of elite ninjas, but only the ones of Japan are so dumb that we know about them. I mean... think about that for a minute. Anyway, Naruto is finally joining Fortnite! We waited far too long for that epic crossover. Some of the most exciting parts of Fortnite come from collaborations with other franchises. And the Fortnite x Naruto collab is by far one of the sexiest! At least for the anime fans out there.

The hype about the Naruto x Fortnite Crossover started with the leaked court documents from May 2021 that were published during the dispute between Apple and Epic Games. These documents described Fortnite collaborations that were either already dropped or postponed.
The documents also suggested a collab between Fortnite and Naruto. Since then, the community has been waiting for this anime crossover. Now the ninjas from Team 7 have officially come to the island with Fortnite Patch 18.40.
All Fortnite x Naruto Cosmetics
It was clear from the beginning that Naruto won't be the only ninja from the franchise to join Fortnite. Besides him, Sakura, Sasuke and Kakashi also came to the island. (Personally, I hope Akatsuki will join in soon too.)
But let's start with the Naruto items that have been around so far. You can buy the cosmetics individually or in a set.
"Naruto & Kakashi"-Bundle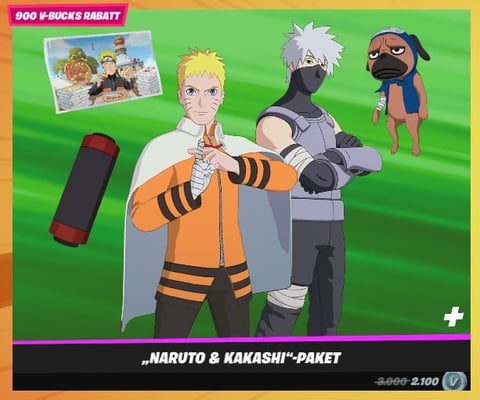 The "Naruto & Kakashi"-Bundle costs 2,100 V-Bucks and features the following cosmetics:
Naruto Uzumaki Skin + The Seventh Hokage style
Back-Accessory Scroll
Kakashi Hatake Skin + Anbu Kakashi & Anbu Kakashi (Mask) Style
Back-Accessory Pakkun
Loading screen Pizza Jutsu
"Sasuke & Sakura"-Bundle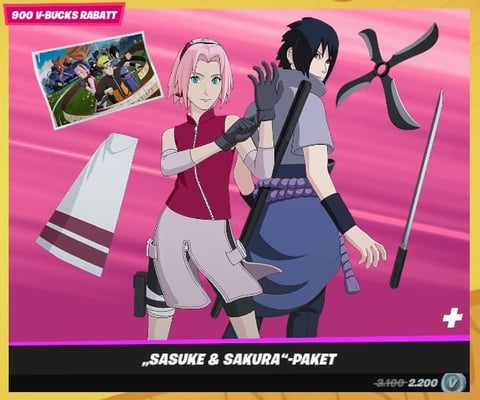 The "Sasuke & Sakura"-Bundle costs 2,200 V-Bucks and features the following cosmetics:
Sasuke Uchiha Skin + an additional Rinnegan Style
Back-Accessory Demon Wind Shuriken
Harvesting Tool Kusanagi Sword

Sakura Haruno Skin + an additional Sakura Uchiha Style
Back-Accessory Konoha coat

Loading screen Team 7
Shinobi Equipment Bundle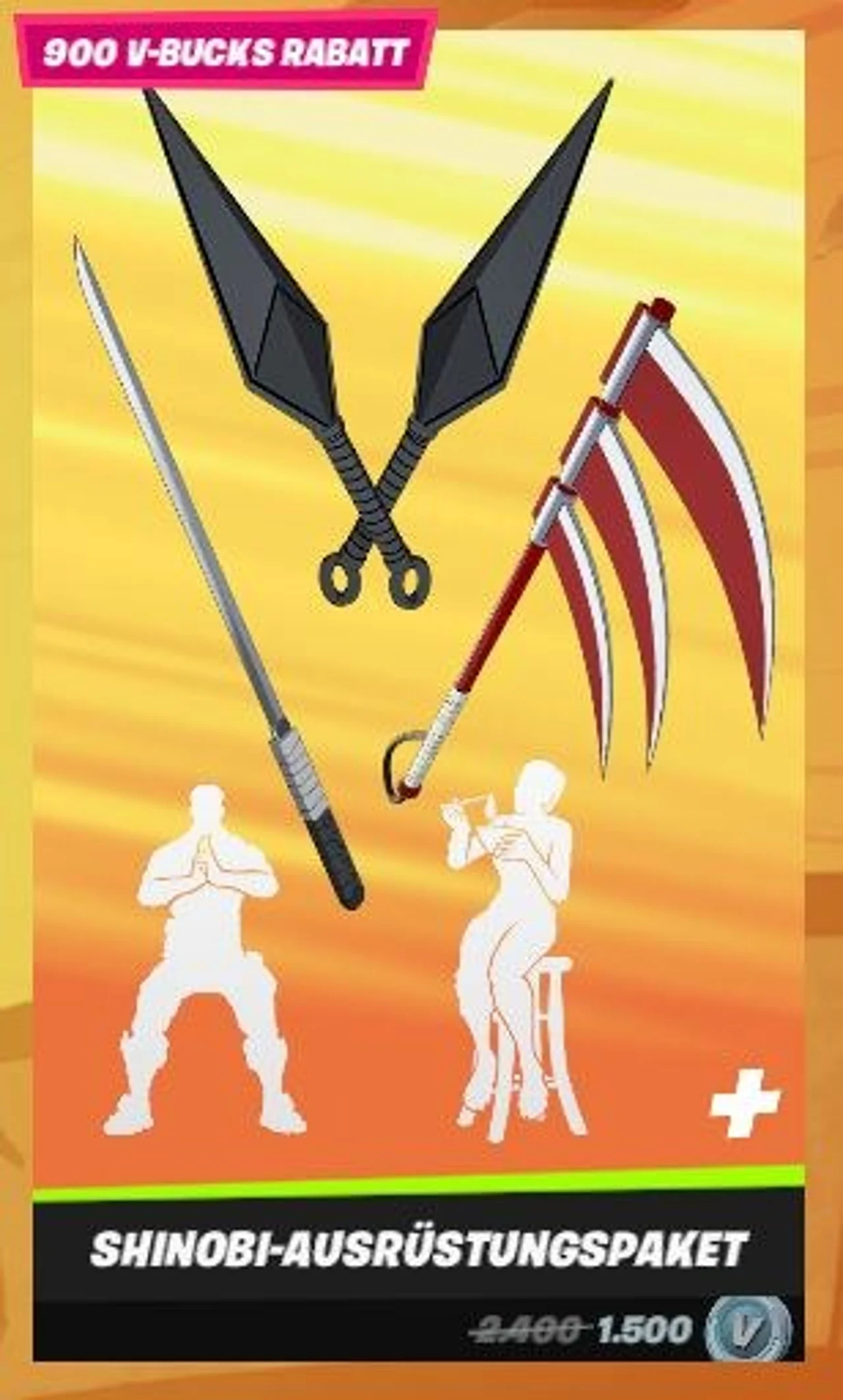 The Equipment Bundle costs 1,500 V-Bucks and features the following cosmetics:
Emote Jutsu Conjuration

Emote Ramen Break

Harvesting Tool Kunai
Harvesting Tool Hidans Scythe
Harvesting Tool Anbu Sword
All Naruto Cosmetics + Prices
As mentioned, you can treat yourself to the skins and cosmetics individually if you just want to pick out a few favorites. Here on the pictures you can see the individual cosmetics and their V-Bucks prices:


How To Get The Naruto Skin?
Unfortunately, you have to invest some of your V-Bucks to get the Naruto skin. Naruto and all other cosmetics can only be found in the item shop and at least so far there is no way to get the skin for free. But as a hardcore fan, he's still worth it, right?