The NFL wants fans to be able to enjoy and connect with their favorite team via Fortnite! Here's everything you need to know.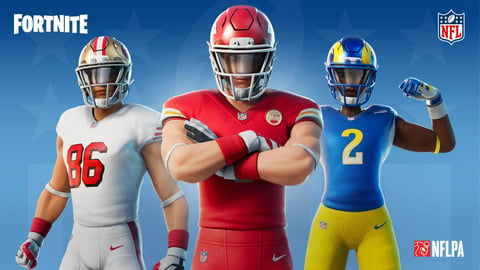 Fortnite crossovers with important sporting organizations and athletes such as Neymar, LeBron James, Patrick Mahomes, and are nothing new, but now, a brand-new experience joins the battle royale, one that American Football fans will enjoy the most - the NFL Zone!
The area will be a Fortnite Island that will function as a social hub, expanding over the coming months with dedicated sections for all NFL teams, where Fortnite players and American Football fans can group up together on matchday to watch their favorite teams.
Let's walk you through everything you need to know about the NFL Zone!
NFL Zone Fortnite Island Code
To join the NFL Zone, you naturally need a Fortnite Island code. Now, there are two ways to join in on the fun. First, by jumping into the NFL Zone social hub, which will then lead you to team-specific areas.
Sadly, unless you're a San Francisco 49ers fan, you'll have to wait until your team gets its own area. The next ones in line are New York Giants and Pittsburgh Steelers, with every team getting one in subsequent months.
The codes are:
NFL Zone main hub: 3402-0256-6913
San Francisco 49ers area: 6133-5764-5986
NFL Zone Game Modes
There are two modes you can engage with and have fun within the NFL Zone, both are twists on regular competitive modes with a dash of sports added to them:
Seek & Sack: As the name suggests, it's a riff on classic Search & Destroy
Blitz The Bag: Similar to Capture The Flag where players must find a item and bring it to one of the stores around the stadium before the other team
And that's it! We hope you enjoy this new experience and see it grow over the coming months.
For more on Fortnite: