Fortnite and crossovers - they just go together. New partnerships are announced again and again. In our weekly series, we present you with a Fortnite skin each time. Today it's Sakura Haruno's turn.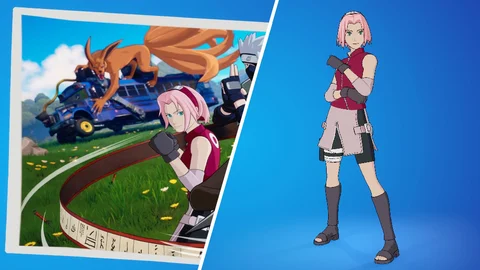 More and more characters from TV shows, films and other games appear as skins in Fortnite. So that you don't lose sight of the story behind the characters, we'll keep you up to date. Our weekly series returns with a really nice collaboration between Epic Games and Naruto: Sakura Haruno.

Who Is Sakura Haruno?
Sakura Haruno is one of the main characters from the Naruto manga and anime series. She's affiliated with the Hidden Leaf village, and at first, she hates Naruto and is infatuated with the character Sasuke (who you get an outfit for in her set), but then she grows to accept Naruto over the course of the story. She's now the female lead in Naruto, and is basically the healer for Team 7 (which feels stereotypical, but maybe that's just me being a snowflake).

How Do You Get The Sakura Haruno Skin In Fortnite?
The Sakura Haruno skin was added as part of the Sasuke & Sakura set Fortnite in Chapter 3, Season 3with Patch 21.00. It is available from time to time in the Fortnite item shop and can only be purchased here.

How Much Does The Sakura Haruno Skin Cost In Fortnite?
You can purchase the Sakura Haruno skin individually from the Fortnite Item Shop for 1,500 V-Bucks. The skin is also available within the Sasuke & Sakura bundle with other cosmetics for 2,200 V-Bucks.

What Cosmetics Are Included In The Sasuke & Sakura Set?
Sakura Haruno is part of a set called Sasuke & Sakura in Fortnite. This includes the following cosmetics:

Sakura Haruno Outfit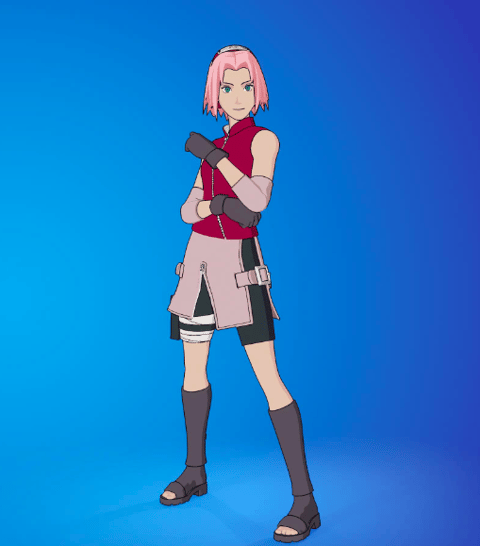 Represent Team 7 as Sakura Haruno!
Doe-eyed for Sasuke, she has taken her fiery inner-voice, great control of chakra, and extreme strength to become one of the greatest Kunoichi.

Sasuke Uchiha Outfit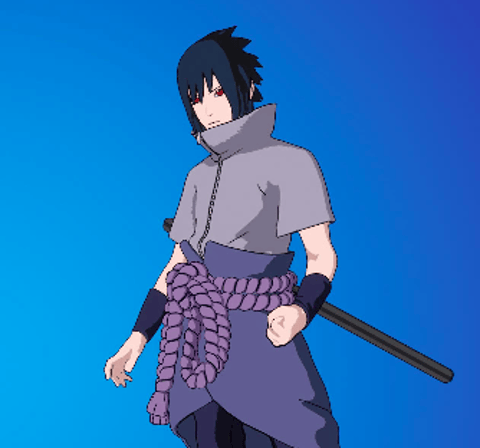 ...or play as Sakura's love interest: Sasuke!
Experienced with the impressive visual Jutsu of the Sharingan and one of the last surviving members of the Uchiha clan.
Demon Wind Shuriken Back Bling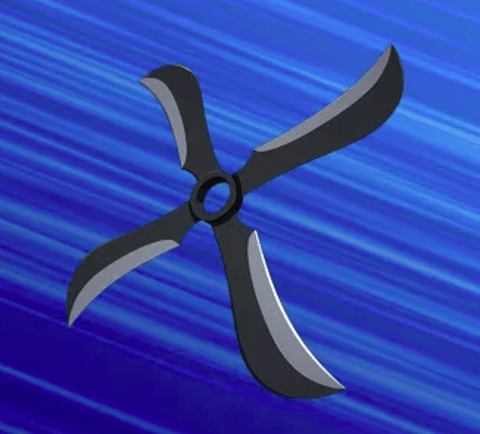 With the Demon Wind Shuriken, the islanders will bow before you.
This type of shuriken is classically associated with the Fūma clan. The blades are deadly sharp, so watch out!

Snake Sword Pickaxe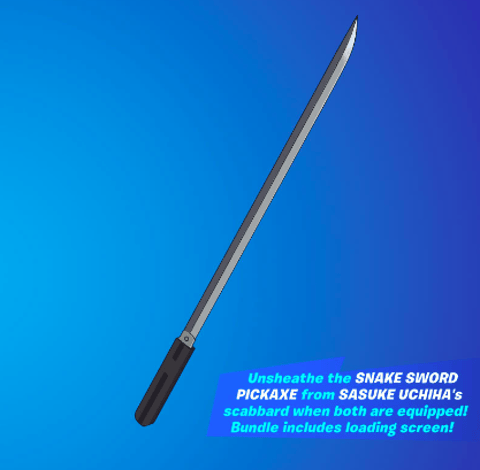 Bring class and elegance to your pickaxe slot with the Snake Sword!

This is a legendary sword, which in the lore of Naruto can extend and retract its blade to attack from distance. Sadly, it's just a normal sword in Fortnite, but swords are always cool.
Hidden Leaf Cloak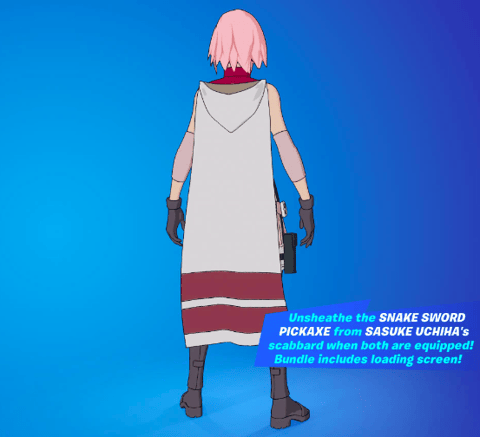 Represent the Hidden Leaf village with your cloak.

Okay, yeah, we admit it. This is a boring cloak. If you love Naruto, then you will probably like it for that reason alone, but come on, we can all admit this is a boring cloak.

Team 7 Loading Screen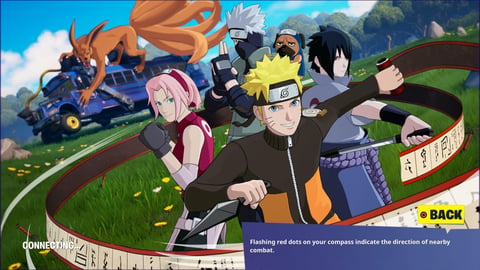 Load into matches alongside the rest of Team 7!

Jump into Fortnite with the rest of the squad, thanks to this awesome loading screen.
We're back next week in our Fortnite skin reveal series with another cool collaboration. Until then, check out the other articles in this series: