The Naruto x Fortnite crossover continues and brings a bunch of cool ninja stuff back into play! Here are the details of all the new Naruto cosmetics, the prices and how to get them.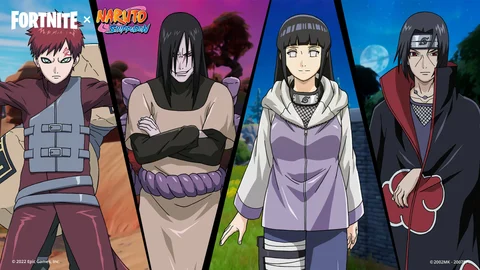 Remember how hyped we were when Naruto came to Fortnite in November last year? Some of Fortnite's most exciting skins come from collaborations with other media. But the Fortnite x Naruto collab was by far one of the hottest! Well, at least for the anime fans out there.

Seriously, I don't even want to know how much money Epic made that day. So it's only logical that they continue this brilliant crossover, right? And that's exactly what happened now. After Naruto, Sakura, Sasuke and Kakashi jumped into the island, they are now joined by Gaara, Orochimaru, Hinata and Itachi. We have an overview of all cosmetics and prices for you right here!
All New Fortnite x Naruto Cosmetics
The cosmetics were leaked a few days ago, but now it's official. Gaara, Orochimaru, Hinata, and Itachi are in Fortnite. In addition to them, as always, there are other cosmetics and pretty nice emotes. You can buy the cosmetics individually or in a set.

Orochimaru and Itachi Bundle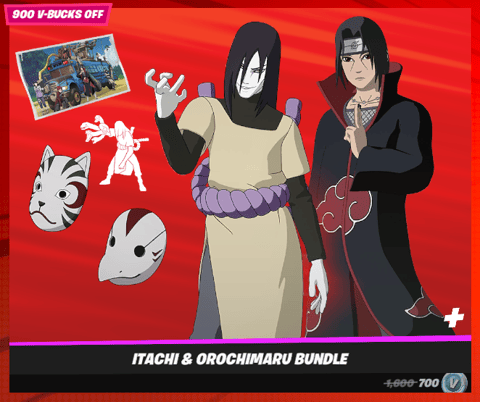 The "Orochimaru and Itachi" bundle costs 1,600 V-Bucks and contains the following cosmetics:
Itachi Uchiha Outfit + Black Ops Alternate Style
Black Ops Mask Back Bling with 4 different Styles
Orochimaru Outfit + Hidden Leaf Era Alternate Style
Striking Shadow Snakes Emote
Islandbound Ninja Loading Screen
Garaa & Hinata bundle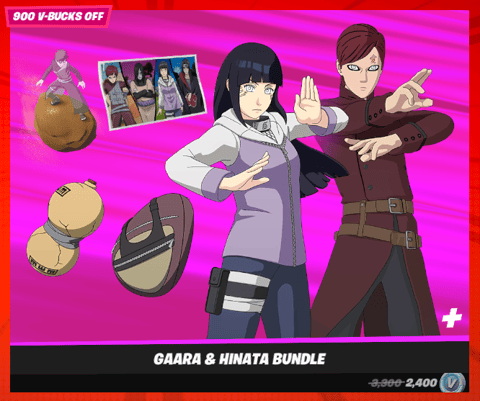 The "Garaa & Hinata" bundle costs 2,400 V-Bucks and contains the following cosmetics:
Gaara Outfit + Fifth Kazekage Alternate Style
Sand Gourd Back Bling
Gaara's Sand Cloud Glider
Hinata Hyuga Outfit + Hinata Uzumaki and Byakugan Alternate Styles
Hinata's Backpack Back Bling
Shinobi Lineup Loading Screen
Ninja Gear Bundle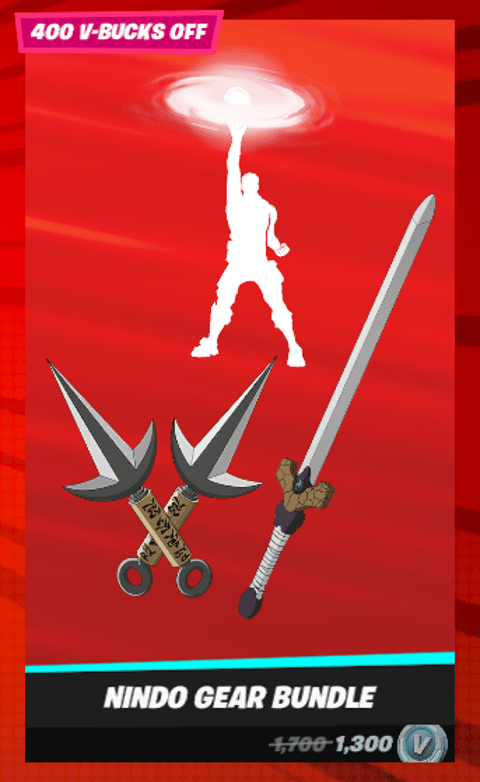 The Ninja Gear bundle costs 1,300 V-Bucks and contains the following cosmetics:
Rasenshuriken Emote
Minato's Kunai Pickaxe
Sword of Kusanagi (Orochimaru) Pickaxe
All Naruto Cosmetics & Prices
As mentioned, you can also treat yourself to the skins and cosmetics individually if you only want to pick a few favorites. These are the prices:

Itachi Uchiha: 1,500 V-Bucks
Orochimaru: 1,600 V-Bucks
Gaara: 1,800 V-Bucks
Hinata Hyuga: 1,500 V-Bucks
Manda: 1,200 V-Bucks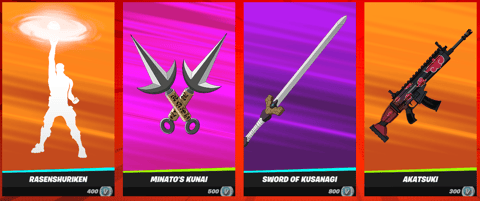 Rasenshuriken Emote: 400 V-Bucks
Minato's Kunai pickaxe: 500 V-Bucks
Sword of Kusanagi pickaxe: 800 V-Bucks
Akatsuki Wrap: 300 V-Bucks
How to get Hinata, Gaara, Itachi and Orochimaru?
Unfortunately, for better or for worse, you will have to reach for your V-Bucks wallet to get the skin. Itachi and all other new Naruto cosmetics are only in the item shop and at least so far there is no way to earn the skins for free. But as a hardcore fan, the skins are still worth it, right?