Fans never got a Star Wars Battlefront 3, which is sad enough. But we now got news about how close the game actually was to being done…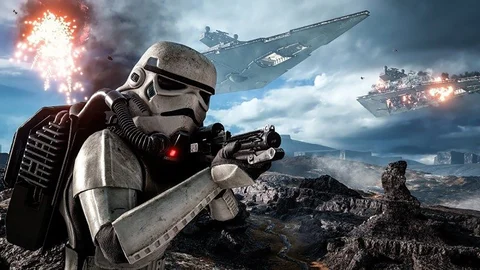 The original Star Wars Battlefront was a legendary series in the 2000s, and then the most recent reboot titles came out in the 2010s and were absolutely fantastic as well (despite the lootbox controversies). But after Battlefront 2, it was all over, and we never got a third game. A former developer on the canceled game now revealed how close it was to coming out, and I can only think of two words to accurately react to this: sad beep.
Star Wars Battlefront 3 Was 99% Done Before Getting Canceled
Michael Barclay, now Lead Designer at Naughty Dog, responded to a prompt on Twitter about games that "got away", which caused a wonderful outburst of regrets and near-gets. The one response that really went viral was his confession about Star Wars Battlefront 3, which was gonna be "legit incredible" and got canceled "2 yards from the finish line", which he rightfully calls out as the heinous crime it is.
I feel like it's been long enough now to come out and say Star Wars Battlefront III was gonnae be legit incredible and the fact it got cancelled 2 yards from the finish line is an absolute crime. Gamers don't know what they were robbed of. https://t.co/zZUu8JR3iV

— Michael Barclay (@MotleyGrue) April 16, 2023
Now, there was some confusion as these games are literally all named the same, but Barclay is not talking about the new Battlefront games here (even though we're not getting that one either). According to his LinkedIn, he was at Free Radical from 2007 to 2009, working on the third part of the original Battlefront series. That's the one we were robbed off, which is arguably even worse.
Star Wars fans can definitely look forward to Jedi Survivor though, which you can now pre-order on Amazon

Maybe it helps to know that leaked footage from that game is out there, and yes it does look amazing. It's such a shame we never got to play this, and that the new Battlefront series couldn't quite reach the peak of the OG games. But hey, at least the mad lads at Respawn are working on a new Star Wars FPS, let's hope that one will be as good as we expect it to be.

This article contains affiliate links which are marked with [shopping symbol]. These links can provide a small commission for us under certain conditions. This never affects the products price for you.