Ubisoft is a well known developer with some pretty exciting titles under their belt. Now they're giving away one game for free so hurry up and get your hands on it!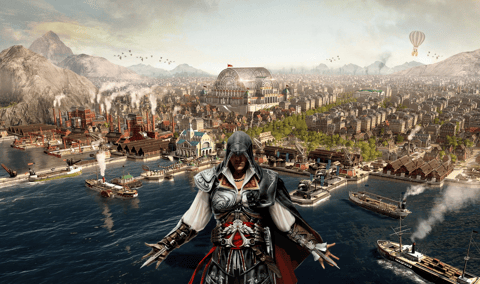 Rainbow Six Siege, Assassin's Creed, Far Cry and Splinter Cell are all names we're pretty familiar with, eh? Just recently, Epic Games and Ubisoft teamed up to bring some of our favorite video game characters to life in another universe. Now, Ubisoft is giving away one of their premier titles for free.
Yes, you read that right. Free. Not a single penny has to be spent. What game is it though? Well, if you were thinking Assassin's Creed Valhalla or anything along those lines then you'll be mistaken — and likely also a little bit sad.
Ubisoft Giving Away Anno 1800
You can pick up the city-building real-time strategy game Anno 1800 for free. The game was released back in 2019 and developed by Blue Byte. If you're into real-time strategy games, then this is definitely one you need to check out.
Can you Get Anno 1800 On Console for Free?
For all of you who like to whip out your brand-spanking-new PlayStation 5 or that sweet XBox Series X, well then we will have to disappoint you once more. This game is not available on any console — this includes the Switch — for free.
You will have to be a PC gamer to get Anno 1800 for free. If you're also a 'Steam only' person, then you're also out of luck, because the game is being given away for free only in the Epic Games store. Could this be part of the previous mentioned collaboration between Epic and Ubisoft?
Oh, of course, if you use Ubisoft Connect, then you can get the deal there as well. Obviously, Ubisoft would also include this deal in their own games library as well!
When Can You Get Anno 1800 For Free?
The game is free for only one week. So don't waste time and just hop onto your computer — if you aren't reading this on your computer, that is — and then log into your Epic Games store to pick up Anno 1800.
The deal will last from April 12 all the way to April 19, 2022. And yes, this is the entire game. Not just some demo or a trial, once you press the 'download' button and wait hours due to a bad internet connection, you'll have the game for as long as you want. So, what are you still waiting for, go and play some Anno!
If you're not fast enough to pick up the game, then don't worry either, the game is going to be reduced 67%. So you can still get it for a decent price if you miss out this week.