Disney and Lucasfilm have started a new campaign. Every Tuesday we'll be getting a sweet surprise, and in December there could be an announcement for a new Star Wars game!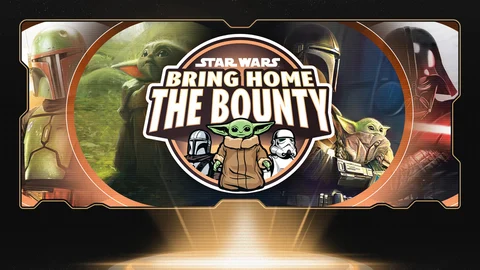 Bring Home The Bounty – that's the name of the new Disney and Lucasfilm campaign. For the next few weeks, new items from the Star Wars universe will be released every Tuesday. This can be figures, books or some fancy accessories. The items are always in the style of a specific topic. For example, one is based on The Book of Boba Fett, which will be released on Disney+ on December 29th, or on The Mandalorian, one of the greatest depictions of the Star Wars universe ever. The Bad Batch and Star Wars: Visions are of course also included. You get what I mean.
But if it were just about books or nail polish, we probably wouldn't be so excited. There is a very special hint for week 10 (December 14th) – it's a controller. We (hopefully) won't be trolled by Lucasfilm and just get a Star Wars design for our controllers. No, we're presuming it's something more. A still completely unknown Star Wars game could be announced! An early Christmas present? Let's find out!
Bring Home The Bounty – A New Star Wars Game?
Disney and Lucasfilm want to tease some new "launches" within their campaign. And what do you "launch" with a controller? You don't have to be a genius to work it out. Here's the tweet again:
This fall, #BringHometheBounty! Check out new #StarWars inspired products and head over to https://t.co/1R3NTZ9xun to discover new launches every Tuesday. https://t.co/4NPCrEK4ad pic.twitter.com/gvWGDFkTQs

— Star Wars (@starwars) October 12, 2021
Paul Southern, Senior Vice President of Franchise & Licensing of Lucasfilm, said the following:
"With the Lucasfilm 50th anniversary coming to a close this year, we wanted to find a way to celebrate all of our beloved characters and stories from the classic to the new and everything in-between. There will be something to excite every Star Wars fan this year with such a wide assortment of items to enjoy and engage with, whether fans are adding to their own collections or scouring for the perfect gift."
Doesn't sound bad at all. Although there's still no explicit confirmation that a new game is really being worked on, the tweet and the statements by Paul Southern at least suggest that something is to be looked forward to.
Since so many Star Wars games have already been announced in 2021, we can't say for sure whether it will be triple-A title. For those who hadn't heard, there were already rumors that Heavy Rain developer Quantic Dreams is working on a Star Wars game. Then there was the confirmation that Knights Of The Old Republic is getting a remake. So this could just be a lame mobile game.
Will We Get A Star Wars Mandalorian Game?
My own expectations are not that high. If there is really a big game in development, then there would probably have been leaks. But who knows... At the beginning of the year, a possible Mandalorian game was discussed. Maybe the launch of a Mandalorian game will be announced? After the huge success of the series, a game would definitely make sense!

What do you think about the new campaign? Let us know on Facebook and Twitter!