A streamer went on a challenge to get banned in Counter Strike 2 for using a console command. You can, if you want to, do the same trick to get permanently banned in the beta of CS2.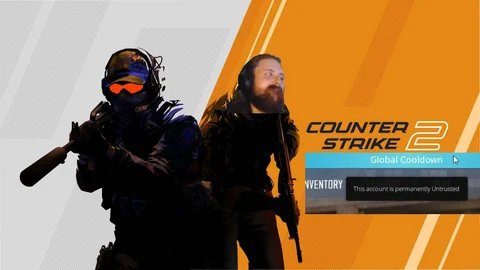 Counter Strike 2 might be one of the biggest releases in 2023. While we don't know exactly when the game will be released, although we have some clues, the first bans are in the books already. The one we have here might be the funniest one so far.
CS2 Streamer Gets Banned For Using A Console Command
Getting banned for cheating is one thing, getting banned for exploiting a console command another. A couple of days ago, Counter Strike community legend Don Hac1 made a tweet about people getting banned for using a console command that lets you turn 180 degrees with the press of a button.
Multiple people have DM'd me saying they got VAC banned for using a non-protected console command that allows you to turn 180 degrees instantly, be aware of executing random commands you don't know the purpose of.

— Hac1 (@DonHaci) September 15, 2023
What was a warning to most in the community, for the Twitter user Poggu it was an opportunity. An opportunity to do something extremely fun. It definitely lived up to that standard. So he booted up his stream on Twitch and started playing CS2's Limited Test. It took him a mere 18 minutes to get banned.
Or "permanently untrusted", as it says in the stream. Those untrusted bans will later on turn into VAC (Valve Anti Cheat) bans and won't be lifted at all, according to a Steam discussion post by former Community moderator ianskate.
Poggu's steam profile now shows a "game ban" from 3 days ago. This will presumably later on change into a VAC ban. Funnily enough, Poggu only got banned after typing in chat that he "cheats". One of his mates went on to report him following the chat message.
This is when his game shut down, and he received the "global cooldown" banner at the top of the main menu. So it seems like VAC has flagged him for his really fast flicking and was waiting for a report to verify, that it was abnormal behavior and not some kind of net code error.
He took the funny side of it. Poggu later on posted a TikTok-esque video of his ban with a sped-up version of Tom Odell's Another Love running as background music and a "fly high Poggu" banner on screen during the whole video.
September 16, 2023
Although this was hilarious, his account with more than 3000 hours of playtime is banned and his inventory, with chests, skins, and stickers, that are all gaining in worth, are locked forever. So, not looking too good for Poggu. And you shouldn't do things like this, either. Don't cheat, don't use exploits of any kind, and don't use commands that look like cheats and will be flagged in this way by Valve's Anti Cheat. Yeah, VAC isn't good, but it's not sleeping.
This article contains affiliate links which are marked with [shopping symbol]. These links can provide a small commission for us under certain conditions. This never affects the products price for you.