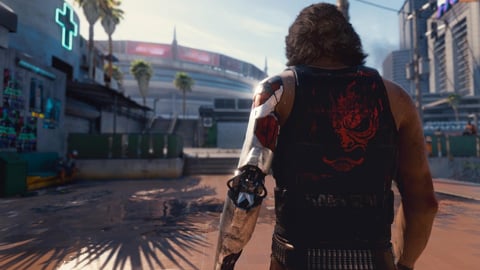 For the past eight years, Cyberpunk 2077 has created the biggest hype in gaming history. With the game finally really (really, really) coming out later this week, we take a look at the international reviews. See what critics think in our review roundup.
After the first announcement in May 2012 and after Cyberpunk 2077 got postponed several times, our visit to Night City is only a few days away. But can the Sci-Fi RPG live up to its hype? Or will it become one of gaming's biggest disappointments? Let's find out what the critics think in our review roundup.
Cyberpunk 2077 Review Roundup
Can Cyberpunk 2077 follow in the footsteps created by The Witcher 3: Wild Hunt, one of the best and most influential role-playing games of the decade? Well… international critics aren't sure about this one, yet.
Most of the reviews state, that they have not been able to fully explore Cyberpunk 2077 due to its enormous size, but the first reviews do not sound as convincing as gamers were hoping, though.
On GameSpot, Cyberpunk 2077 scored 7 out of 10 points with the reviewer stating that side quests and characters work really great, but too much of the game's world is superficial with even the main-story disappointing.
Gaming-Website IGN sounds a lot more positive on the other hand with Cyberpunk 2077 scoring 9 out of 10 – but not everything is great here:
"It's a shame that frustratingly frequent bugs can occasionally kill an otherwise well-set mood, but Cyberpunk 2077's impressively flexible design makes it a truly remarkable RPG."
PC Gamer (78/100) calls Cyberpunk 2077 "a technical stunner" that can't live up to the humor, clever design, and dialogue, CD Projekt Red introduced in The Witcher 3. Once again, the review mentions many Bugs and problems with the game.
Something you can read on almost every Cyberpunk 2077 review around the globe. Would another shifting of the game's release have been necessary? Who knows.
On Metacritic, Cyberpunk 2077 reached a score of 91 points, based on 44 reviews for now. The verdict is mainly positive and everyone that is not expecting an absolutely perfect game should be very happy with what Cyberpunk has to offer.
EarlyGame says:
"We had the chance to get our hands on Cyberpunk 2077 in June and spent approximately five hours in Night City. And we loved every minute of it, especially the choices you were offered by the game and the variety in gameplay, though many of the game's core mechanice were a bit too complex or not explained at all."
Cyberpunk 2077 is releasing on December 10 on PC, PlayStation 4 and Xbox One. The Next-Gen-Upgrade for PS5 and Xbox Series X|S is set to release early 2021.
For more gaming and esports news, stick to EarlyGame. Get engaged through our Twitter and Facebook, and check out our YouTube channel!