In Dead Island 2, fast travel can save you a lot of valuable time. This short guide will help you to figure out all the requirements around the fast traveling in Dead Island 2.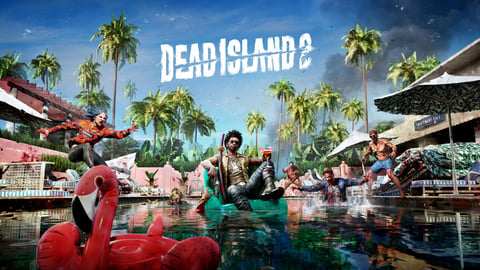 In Dead Island 2 there are a bunch of thrilling missions for you to complete. To get across the map quickly and save yourself as much time as possible, you should make use of the game's fast travel mechanic. Since the game itself never really explains how to use the fast travel, we will gladly take over the job to do so.
Dead Island 2 Fast Travel: How To Unlock
Before you can use this extremely useful option to your advantage, you will have to spend some time in the game first. To be precise, you will unlock the feature during the course of the main story. The game includes 24 main story missions, with the 14th of them being "The Red Mist".
Looks really cool, doesn't it? Check out Dead Island 2 for yourself and spend some time slaying zombies!
Around the end of that quest, you reach the Blue Crab Grill in Venice Beach. Once there, you help the survivors make dinner by finding the circuit breaker to power the grill gates. The fast travel will be unlocked after that, without the game really telling you so.
How Fast Travel Works In The Game
After you unlocked fast travel, you will have to find a particular map, that is either hanging on the wall or is lying around on a table. To be able to use a fast travel point, you need to explore this region by foot first and find said map in different places. That means the fast travel is only useful for places you have to revisit.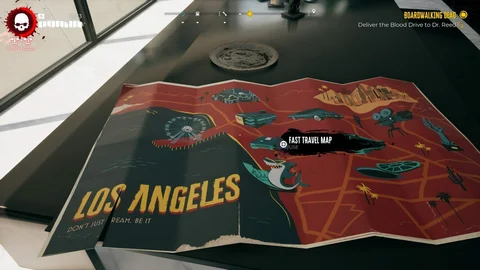 To travel from one region to the other, you just interact with one of the discovered maps, and it will show you your available spots to go to. Click on the one you would like to travel to and enjoy the ride.
Fast Travel Spots
Dead Island 2 has ten regions and twelve fast travel spots. Here is a quick overview where to find all the Spots:
Bel-Air: Emma's Mansion
Halperin Hotel: Janitor's Office
Beverly Hills: Roxanne's House
Monarch Studios: Green Screen
Brentwood Sewer: Maintenance Room
Brentwood Sewer: ZFZ Near Patton's
Venice Beach: Blue Crab Grill (here you unlock fast traveling)
Venice Beach: The Tower
The Pier: Lifeguard HQ
Ocean Avenue: Serling Hotel
The Metro: Utility Storage
Hollywood Boulevard: Re-Aging Clinic
Now enjoy your time in Dead Island 2 and discover all the travel points for an easier time during later parts of the game. If you need more guides and helpful tricks around our favorite zombie-slayer game, check out our other Dead Island 2 guides!
Stay tuned for more insights on the game and up-to-date information!
This article contains affiliate links which are marked with [shopping symbol]. These links can provide a small commission for us under certain conditions. This never affects the products price for you.