Diablo Immortal is celebrating its one-year-anniversary and since Diablo 4 is launching soon, we will get a nice little Diablo 4 x Diablo Immortal Crossover. Here's everything you need to know.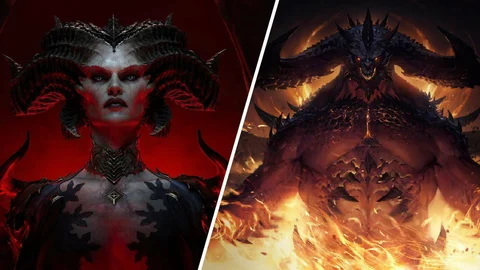 In case you didn't know, Diablo Immortal is the Diablo mobile game that was met with a lot of criticism when it was announced at BlizzCon 2018. I guess we all remember poor Wyatt Cheng announcing the game on stage and being asked if this was an "out of season April fools' joke". Well, the game will celebrate its one-year-anniversary on June 2, 2023 and actually turned out to be a pretty good game. Sure, if you are into PvP-content the game is very much Pay2Win, however, if you enjoy the game's PvE content solo or in a group, Diablo Immortal is a very good mobile game.
As all of you might have heard by now, Diablo 4 will release on June 6, so Blizzard took the opportunity to celebrate Diablo Immortal's anniversary while at the same time promoting Diablo 4. Here is everything you need to know about the Diablo 4 x Diablo Immortal crossover.
Merciless Monstrosity Event To Celebrate D4 & DI
According to Blizzard's blog, Diablo Immortal's birthday will be celebrated with a new Merciless Monstrosity event, Lilith-themed cosmetics, a new zone and a mysterious new class. The celebration will start in "early June" and last for two months.
According to the blog, the new zone will be an island called Ancient's Cradle that will be available in mid-June. This new zone will be the next chapter of the main questline and include a new PvP zone event, side quests, bounties and new enemy types.

Sadly, we don't know what the new class will be yet. Blizzard just said the class "bleeds new blood into the Diablo universe with its appearance in Immortal and favors a mid-range playstyle using a classic weapon type." We are curious what the new class will be and if it will also come to Diablo 4 in the future.
Are you playing Diablo Immortal or are you still waiting for Diablo 4? We already played the beta and Server Slam, so we can provide you with all the Diablo 4 guides you could ever need.
This article contains affiliate links which are marked with [shopping symbol]. These links can provide a small commission for us under certain conditions. This never affects the products price for you.