Forspoken is coming very soon, and less than a week ahead of release the beginning of the game has been streamed online. Watch out for spoilers!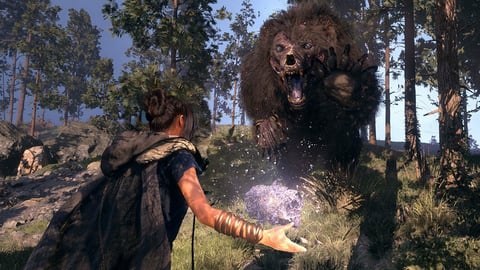 Forspoken is launching on January 24 for PS5 and PC, and so far the game has had a bit of a tough time selling itself to new people. It's a brand-new IP with its own take on the Isekai/fish-out-of-water story and writing that ground many people's gears. But hey, at least the combat looks fun and exciting.
If you want to have an extended look before the game's release, you can of course play the demo, or you can now watch the first hour of the game, as it has been leaked online.
First Hour Of Forspoken Is Online – Beware Of Spoilers
Someone got hold of Forspoken early and uploaded the first hour of the game online. This was first spotted on ResetEra, with YouTube and Streamable links now floating out in the wild. We will obviously not share them, but if you want to check out Forspoken's beginning, you should have no trouble finding it.
If you clocked the leak and are excited about Forspoken now, you can pre-order the game here!
We checked out the footage and... the game looks okay. From everything we've heard and seen now, it seems like the kind of game that won't be called a masterpiece by many, but it has some cool ideas and potential to be a decent enough open world RPG with fun combat.
Even the combat looks kind of clumsy and confusing in the footage though. But it has the potential to unfold into something decent throughout Forspoken's playtime. The writing though... enough of this Marvel sh*t, please! It's so cringy and just plain unfunny.
This article contains affiliate links which are marked with [shopping symbol]. These links can provide a small commission for us under certain conditions. This never affects the products price for you.