Genshin Impact Fans, hold your horses! The Genshin Impact 4.0. Livestream aired on friday and revealed a ton of new information. More than 100,000 viewers were online, with the stream lasting longer than an hour and the team revealing many juicy details about the upcoming version 4.0!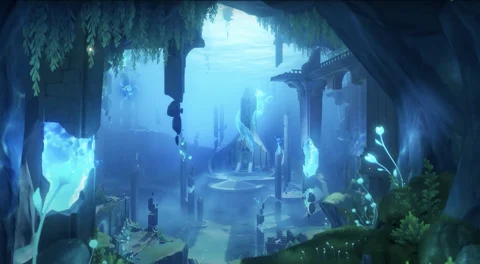 Dude, when I say I expected Fontaine stuff, I didn't expect SO MUCH. Missed the livestream? No worries, I watched it for you. Here are the most important details about Genshin Version 4.0!
Genshin Impact 4.0. Confirmed Release Date
We now know that Genshin 4.0 will release on August 16 in China, if we assume that this is at 12:00 pm, then it would release for us at 9:00 am PT or 12:00 am EST on August 15.
Banners: Phases & Release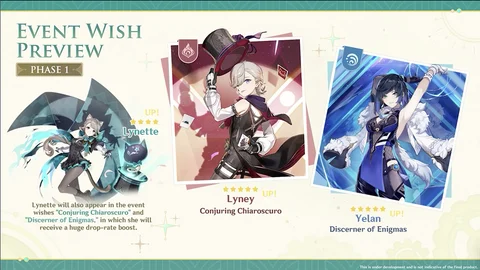 We will finally get Lynette and Lyney in phase one, as well as a Yelan Rerun. The banner will start August 16 and most likely last until three weeks later, which would be September 6. (Pun intended?)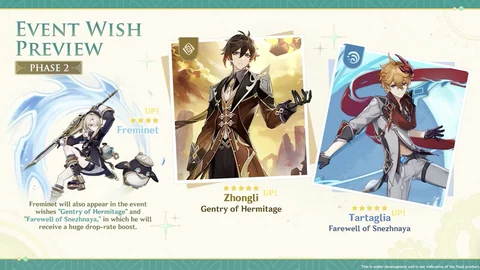 This banner features a Zhongchi Rerun, and the new character Freminet will join as a four star. If my prediction is right, then this banner should come out on September 6, 2023, alternatively 6.9.2023, which would single-handedly be the most epic move of all time. It would then end on September 27, 2023.
New Playable Characters
We will be introduced to the land of hydro by these three siblings mentioned above. Lyney seems to have a lot of political and social power in Fontaine, with Lynette being his observant right-hand-lady behind the scenes. Freminet is rather shy and prefers to swim and play with his pet. All of these characters will be on the first two banners in 4.0. Here is what we know about them!
Lyney
Lyney "Spectacle of Phantasmagoria" is a famed magician who possesses a great stage presence, enthralling his audience with his skills as they hand onto his every word.
Lyney will be getting his own Story Quest "The Forgotten Thief – Felis Fuscus Chapter: Act 1" in 4.0.
He is being voiced by American voice actor Daman Mills (Pokémon) and Japanese voice actor Shimono Hiro. (Demon Slayer)
| | | |
| --- | --- | --- |
| Rating and Element | Weapon Type | Role |
| 5* Pyro | Bow | DPS |
Abilities:
His charged attack spawns a Grin-Malkin Hat whenever he deals a hit, which enemies try to attack. This hat will then deal a strike, causing Pyro dmg, when destroyed or at the end of its time duration.
His Elemental Burst is called "Wondrous Trick: Miracle Parade" and it turns him into a Grin-Malkin Cat that moves around and explodes into flames of Pyro.
One of his passive talents is called "Trivial Observations" which helps mark Fontaine's specialities on the map.
Lynette

Lyney "Elegance in the Shadows" is a magical assistant of few words whose emotions resemble those of a cat. She is described as rather introverted and quiet, but very observant.
She is being voiced by American voice artist Anairis Quiñones (Attack on Titan) and Japanese voice actress Sasahara Yu. (Nijigasaki High School Idol Club)
| | | |
| --- | --- | --- |
| Rating and Element | Weapon Type | Role |
| 4* Anemo | Sword | Sub-DPS or Support |
You will be able to get Lynette for free! More infos about that are down in the Limited Time Events Section.

Abilities:
Pilfering Shadow: Lynette can enter a high speeds state, similar to Yelan, then mark an opponent with "Enigma Thrust" to deal damage.

Her Elemental Burst summons a giant Bogglecat Box, which continuously deals Anemo damage to nearby opponents. When it comes in touch with any element except for Geo and Dendro, the Box absorbs it and additionally fires shots with the element that it came in contact with.
Freminet
Lyney "Yearning for Unseen" is the brother of the famous duo and prefers to stay low-profile. He has a passion for diving and hides a giant heart behind his cold exterior. He also seems to have a soft spot for animals and mechanics, both of his passions combining in his pet clockwork penguin Pers.
His english voice actor is Paul Castro Jr. (Belle) and his Japanese one is Toki Shunichi. (Yuri!!! on Ice)
| | | |
| --- | --- | --- |
| Rating and Element | Weapon Type | Role |
| 4* Cryo | Claymore | DPS |
Abilities:
His Elemental Burst "Pressurized Floe" uses Pers as a timer, which makes the Pressure of the timer rise and applies Cryo in waves. This applies to his Normal Attack.
When using his Burst, his Elemental Skill will further enhance. The built-up Pressure from before now has an impact on how much damage his "Shattering Pressure" can deal. It deals different types of attacks based on the Burst, but when the Skill is over, it automatically cancels his Burst as well.
He has a passive talent that makes Aquatic Stamina Consumption (will be explained later on) decrease by 35% for all the party members that are your own.
You absolutely need this Venti plush. I don't make the rules. It is too cute not to get.

New Weapons
There will be a total of 12 new weapons coming to the game!
For starters, we will get a new 5* bow that seems to be Lyney's signature weapon. It's crimson colored and has many intricate details like crystals and checkerboard patterns.
We will also get 5 new additional battle pass weapons (that's the first time we get an additional set) and 5 new forgeable weapons! And the last new weapon will be a 4* sword that can be acquired through fishing. It looks a lot like a pipe and has maybe already shown up on your feed before.
New Artifact Set
We will get two brand-new artifact sets called "Golden Troupe" and "Marechaussee Hunter". They will both be available in the new Domain of Blessing, "Denouement of Sin". These were already leaked a month earlier. If what the post says is true, we already know some more info on them.
| | | |
| --- | --- | --- |
| Name | 2-Piece | 4-Piece |
| Golden Troupe | Elemental Skill DMG +20% | Elemental Skill DMG +20% & if off-field, additional 20% until 2 seconds after back on field |
| Marechaussee Hunter | Normal & Charged Attack DMG +15% | 2-Piece Effect + HP decrease/increase triggers CR+11% for 5s. Up to 3 stacks. |
I have the theory that Marechaussee Hunter could be fitted for Lyney. Golden Troupe seems like the perfect artifact for any Sub-DPS, who you mainly use the E off, for example Yae.

New Bosses
We got a total of two bosses announced and an entire new "species" we can fight now called Clockwork Meka. We will be discussing Clockwork Meka in more detail down at the "New Gameplay Mechanics" section.

Icewind Suite
Dirge of Coppelia and Nemesis of Coppelius, aka the dancing couple we've been seeing in leaks in the past, are officially on their way to the game! A gift from the Fontaine Research Institute, they are made out of Clockwork Meka. They are combat machines with the purpose of collecting combat data. Their moves are a mixture of medieval dances and figure skating.
Emperor of Fire and Iron
This fiery dude looks like a giant crab. He is the ruler of Fontemer Aberrants, a new type of underwater creature that can absob elemental energies and go ashore, and he is hella old. You will find him furiously waiting for you in an underwater cave. Be cautious of him, since he has volcano like features that shoot fire balls on his back, and he is an aggressive little man.
New Limited Time Events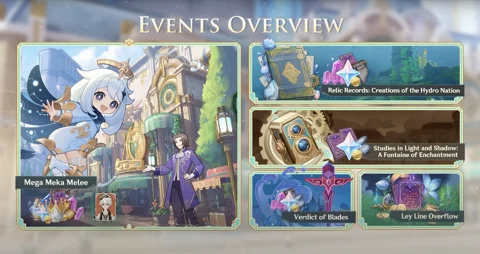 Mega Meka Melee: Help Leschots Clockwork Workshop with a toy-making commission and gain many rewards such as a Crown of Insight, Primogems, Ascencion Materials and even have the opportunity to invite Bennett! There will be three gamemodes: An underwater parkour, combat gameplay & a music game.
Relic Records: Creations of the Hydro Nation: Get to know Fontaine by collecting local materials and fighting opponents. Gain Primogems, Ascension Materials and Mora.
Studies in Light and Shadow: A Fontaine of Enchantment: Photography event, where you get to take underwater pictures of the wildlife. Gain Primogems, Ascension Materials and Mora.
Verdict of Blades: Combat Event. You can try out the new Fontaine specific combat mechanics! Gain Primogems, Ascension Materials and Mora.
Leyline Overflow: Get a limited amount of double rewards at Leylines.
If you want to get the character Lynette for free, and you are over AR 25, be sure to check the event page "The Curtain Never Falls on Magic"!
Real Life Art Event
There is going to be an art exhibition inspired by Fontaine in real life which will be going from August 19 to August 27. It's going to be in Paris, New York, Tokyo and Taipei! Don't worry, if you cannot make a casual visit to New York, then you can just take a look at it online.
If you want to find out more about it, then check out this article:
Fontaine Story Arc
We now know that Fontaine uses its court as a source of entertainment for the people. We also found out about a Great Flood that occurred, and that there are many ruins under the Land of Fontaine. When we arrive, there will be unexplainable, mysterious rain, which lines up with a forecast that the entire land will be flooded once more, only leaving Focalors behind. We also got a hint at an underground slum, which could be a confirmation of our story prediction here.
Fontaine Culture
The most important city of Fontaine is called "Court of Fontaine" which you will reach by boat – a so called aquabus. You will encounter three of these in Fontaine, which will take you to the culturally most important cities. They are named Clementine, Navia (yes, like the character) and callas.
The little Melusine captain of the boat will tell you some fun facts about the region, why you take in the view. And while we are at it, let's talk about the new creatures as well. We have seen them in some leaks before, but now we know that they actually come from a secluded little village. They are born with a magical sight that lets them see things that humans can't. That's why they work a lot in the executive justice system of Fontaine, more specifically in the "Marechaussee Phantoms", who are a special force of detectives working directly under the Chief Justice Neuvilette.
New Gameplay Mechanics
One thing that is really exciting is that you will be able to fast travel to Fontaine with an automatic Teleport Waypoint as soon as you finish Archon Quest Prologue: Act 3 "Song of the Dragon and Freedom". This means we will most likely get something similar to this with all the upcoming regions as well. This is very exciting news, as it gives the player complete freedom over their exploration journey (aside from Inazuma, of course).
Fontaine
Diving
We already guessed that diving would be a huge mechanic, now we know that it is even bigger than we could've expected. To keep things short, the entire underwater map of Fontaine will be as big as the normal overworld map. We won't get an oxygen bar, but an underwater stamina bar, so we can explore to our heart's desire. There will be many little ruins, wildlife and even enemies underwater for us to fight with a brand new combat system. They even programmed an entirely new way to control your characters' so you don't get motion sickness – if that's not love, I don't know what is. The team also revealed that they plan on bringing out one new big gameplay feature with each new region!
Arkhe
Fontaine has its own power system that is being driven by Pneumia-Osia annihilation reactions, which got invented 400 years ago. (very specific timing, considering that the last hydro archon died 500 years ago, most likely in the cataclysm)
Clockwork Meka
Clockwork Meka is being powered by Arkhe. This system seems to mimick real life with mechanics. Some of the Clockwork Meka creatures we will encouter will be enemies who we will meet in the wilderness. Others are patrolling in the cities or explore the deep underwaters.
Indemnitium
Instead of using it for fighting purposes, such as Clockwork Meka, it powers things the people of Fontaine need in their daily lives such as lights, transportation and other facilities. This isn't powered by Arkhe, though – instead, it gets its energy by the process of judgement by a machine called "Oratrice Mecanique d'Analyse Cardinale", which harvests the peoples' belief in justice and converts it into energy.
Opera Epiclese
The name of the trial court in Fontaine. Court hearings are public events which are being treated more like entertainment, even though the lawful importance of those public hearings are nondenienable.
General System Optimization
There are some general improvements that have been mentioned too.
Multi-Layered Map
Party Setup Screen Update
Genius Invokation TCG Spectating System
1. When Travelers enter a multi-layered area, the mini-map will automatically switch to a multi-layer mode. When selecting a location on a different layer, the entirety of the layer map will be shown. It will be available in all the regions, not just Fontaine.
2. There will be smooth new character animations for every single character when they enter and leave your party. They will also get characteristic poses. The entirety of the Party Setup will look a lot better, with it changing depending on which region you are in, and there also being more spacial depth.
3. This will make it easier for you to play TCG Co-Op with your friends. You can etire go on the Friends, or the Co-Op interface, to invite your friends to a duel. You can even watch others duels as a spectator when you are in their world.
This article contains affiliate links which are marked with [shopping symbol]. These links can provide a small commission for us under certain conditions. This never affects the products price for you.