A winter-themed event is coming to Halo Infinite. See here everything about the Christmas event Winter Contingency, from release date to rewards.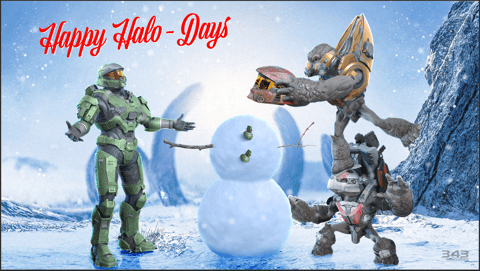 Happy Halo-Days, everyone! There is going to be a Christmas event in Halo Infinite. It's called Winter Contingency and will run throughout the rest of the year. Yes, you read that right: Master Chief will put on his red bobble hat and deliver some presents for you this year. What exactly is this Christmas event in Halo Infinite, and what rewards will you get in Winter Contingency? Let's check it out!
Halo Infinite's Christmas Event Winter Contingency
What is Winter Contingency in Halo Infinite?
As the title suggests, Winter Contingency is an event in Halo Infinite with a Christmas/winter theme. It's going to be a limited time event, just like Fractures: Tenrai, and offer unique rewards during its runtime. 343 haven't announced much about the event yet, so we don't know if there will be new modes or playlists. They have released a very short trailer, which you can see at the end of this article.

Halo Infinite Winter Contingency: Rewards
What rewards you will be able to get from playing Halo Infinite during Winter Contingency, hasn't been officially announced yet. However, we of course have some tasty leaks for you here. According to the leaks, players will get a unique item every day during the Christmas event. How you will be able to unlock the items is not yet clear, but it's been supposed that you will just need to play one match. That would be sweet! The battle pass has become better, but is still a bit of a grind. So it would be nice to get some neat items pretty much for free.
Check out one of the leaks on Reddit, supposedly showing the items we will get during the Christmas event Winter Contingency:
A friendly reminder that Winter Contigency starts tomorrow with some free rewards. from halo
Halo Infinite Winter Contingency: Release Date
Halo Infinite's Christmas event Winter Contingency will launch on December 21 and supposedly end on January 3. These dates have not been officially confirmed yet, but it would only make sense, really. 343 implement updates every Tuesday at 11AM CT / 12PM ET/ 5PM GMT / 6PM CET, so we assume that this will also be the case for Winter Contingency.
This event is largely about silly, vaguely Christmas-y looking skins and cosmetics. But: it's at least something. As good as Halo Infinite is, players have been consistently crying out for more content, modes, playlists and so on. Yes, 343 recently added some new modes like the beloved Tactical Slayer, and that was a great step in the right direction. But people are insatiable nowadays. They want more, more, more. This Christmas event will surely be a nice little nugget to get us over the holiday period, though.