An industry insider has leaked new details about how the open world of Hogwarts Legacy works. It sounds weirdly expansive, and almost like a Ubisoft game…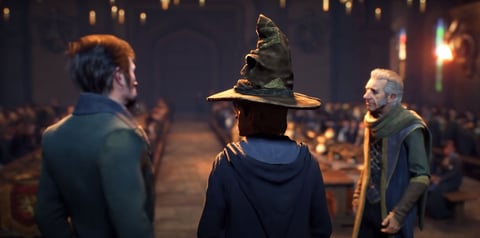 New details have leaked regarding the open-world of Hogwarts Legacy. It sounds so much more impressive than we were expecting. The wisest path to tread with this game is high hopes and low expectations, though. Not because of the devs or their history, but merely based on the amount of failed Harry Potter games we've seen over the years. But anyway, here's what they're hoping to deliver later this year.

Harry P nerd? Head over to our Hogwarts Legacy home page when you're done here:

How Will Hogwarts Legacy's Open-World Work?
According to YouTuber RetroRaconteur, who was contacted by an insider at Portkey Games, Hogwarts Legacy will have a far more ambitious open-world than was previously thought. He outlined the following details in a recent leak video:
Enemy camps are a core gameplay mechanic (combat, stealth & exploration).
Dungeons are a part of the Hogwarts Legacy world.
There are multiple open world regions (we've already seen Hogsmeade, Azkaban and Hogwarts in the trailer).
Relationships are going to play a significant role in the game.
There will be a day and night cycle in the game.
As if we weren't excited enough, this sounds truly fantastic. It pretty much guarantees that we'll be learning a ton of combat magic, which wasn't clear at first. But it's also great to know that we're getting more locations in this world than merely Hogwarts. Perhaps merely was a poor choice of words, but as great as Hogwarts is, it would never be enough to prop-up a whole RPG.
We'll keep you updated as soon as we hear anything else about this highly-anticipated game. Needless to say, this is going to be one of the big games of the year.