Guerrilla Games have revealed a number of new skills and abilities that will be available in Horizon: Forbidden West.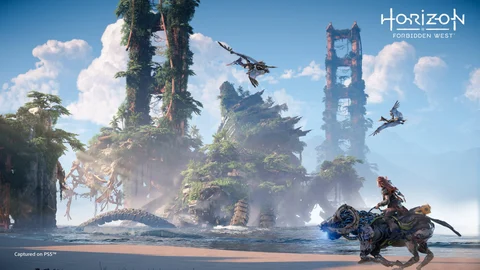 Guerrilla Games have taken us through a number of new abilities that will feature in Horizon: Forbidden West. The game, due out in February 2022, will include a brand new grapple and glider, something that did not feature in Horizon: Zero Dawn.
In a brand new PlayStation Blog Entry, Guerrilla Games took us through a deep-dive of the game's new gameplay mechanics.
The open world of Horizon Zero Dawn is a true playground for players. Gallop through the wilds on your trusty Charger to take in the lush environments and vibrant settlements. Embrace your inner hunter and sneak through bandit camps, taking down enemies silently and disable any means for them to call for back-up. Or climb to the highest mountains for gorgeous views and mysterious Old World secrets…
This latest update sheds light on new ways in which we will be able to traverse the world of Forbidden West, as well as new immersive exploration features. Most importantly, the blog post revealed a couple of new weapons and tools that we will be able to utilize on our adventure.
Various new mechanics were also revealed, as Guerrilla Games continued to prove that Horizon: Forbidden West will certainly be a game to look out for when it launches for PS4 and PS5 on February 18, 2022.
The developers also confirmed that Aloy will still be able to wield a fair number of her old weapons, but that these weapons will be enhanced, giving them a "stronger personality". We're really not sure what this could possibly mean, but it is certainly intriguing.
What are the new Skills and Abilities Coming to Horizon: Forbidden West
A variety of new skills and abilities have been unveiled, allowing players a whole new level of freedom, and huge variety in the way that you can interact with Horizon: Forbidden West's world.
A new High Vault Mechanic
This new mechanic allows Aloy to "hoist herself on top of any object of jumpable height with room to pull up". According to David McMullen, Lead Systems Designer at Guerrilla, High Vault will greatly increase "the potential for exploration", especially when combined with the ability to free climb in the game.
Pullcaster and Shieldwing
The Pullcaster and Shieldwing are two new tools that include multiple functions. The Pullcaster is similar to a grapplehook, but also functions as a winch. Shieldwing functions as a glider, and "combines well with numerous other mechanics both in and out of combat, such as landing on your mount, ziplining, the strike from above skill, and more...".
A Brand New Skill Tree
A brand new Skill Tree attempts to bring melee and ranged combat closer together. There is a huge amount of customization coming to Horizon: Forbidden West, with workbenches providing a variety of new skills and abilities to combine with your weaponry.
One example in the "Resonator Blast" which is an add-on ability for your spear that allows you to "charge up the spear with melee hits and when fully powered, the energy can be placed on enemies and followed up with a projectile". The ensuing explosion is insanely powerful, and a very effective way to take out an enemy.
Alternatively, there is the Valor Surge feature, which represent and strengthen specific gameplay approaches: "You unlock and upgrade them through the skill tree with skill levels... there are 12 in total..." There are also three levels for each Valor Surge, and "the higher the level, the longer the charge up, but the more powerful the attack". This customization is insanely exciting.
New Weapons Are Coming
New weapons, such as the Spike Thrower, will be coming in Horizon: Forbidden West. Each weapon is going to have their own strengths and weaknesses, and will all handle differently. You will need to figure out which ones are best for both your playstyle, and situations that you are finding yourself in.
According the McMullen:
The Spike Thrower, for example, is a new, high damage weapon which, when thrown at the right moment, makes it easier to hit larger targets. For elemental damage, such as fire or adhesive, you can choose to stick with the Blast Sling, and so forth. Each weapon comes with different perks, ammo types, and weapon coil slots to customize them further — though some weapons need to be upgraded first before you can make them stronger.
We can't wait to sink our teeth into Horizon: Forbidden West. After the incredible experience that was Horizon: Zero Dawn, we imagine that Guerrilla Games' latest effort will provide us with the same joys as the original, but combined with a bunch of great new features. Hopefully these features elevate the experience and don't bog it down with more fluff.
Welcome to EarlyGame, your one-stop-shop for everything Esports and Gaming. Check out MyEarlyGame for an exclusive and customizable experience, and to become part of the EarlyGame family. Get engaged on Twitter and Facebook.