Nintendo will release 48 new maps for Mario Kart 8 for $24.99. But we can tell you how to access all of these deluxe maps without spending a penny.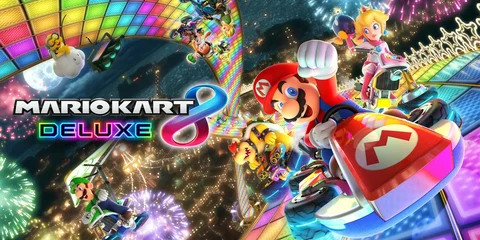 The Mario Kart 8 deluxe tracks will be released across 6 different waves until the end of 2023. At this point, two waves containing a total of 16 maps have already been published. And while Nintendo is selling the Mario Kart 8 Deluxe Booster Pack for $24.99, we know a way for you to access all the new tracks for free. So keep reading for free tracks.
Play Mario Kart 8 Deluxe Tracks For Free
If you don't want to or just can't buy the DLC pack, you can easily play all the new deluxe tracks in Mario Kart 8 for free through the online and multiplayer mode.
When playing global or regional races, you can select "Random Map" and if you're really lucky, there is a chance that one of the deluxe tracks gets selected. Of course, if other players who have the DLC pack, select one of the deluxe tracks, you'll be able to play them as well. The only downside here is that you won't be able to choose the track you'll be playing on. But if you just want to have a sneak peek into the new maps, I highly recommend you to play a couple of rounds online.
Same thing goes for playing with friends. If you have a friend who has bought the Booster Course Pass, just play in multiplayer mode, and they'll be able to select the new tracks for your race.
New Mario Kart 8 Deluxe Tracks
As Nintendo has been revealing new tracks in waves, we only have a limited selection of the coming 48 tracks. Right now, there are only 16 deluxe tracks available, with the third new wave of tracks planned for release in December 2022.
These are all the new cups that will come during 2022 and 2023:
Golden Dash Cup
Lucky Cat Cup
Turnip Cup
Propeller Cup
Rock Cup
Moon Cup
Fruit Cup
Boomerang Cup
Feather Cup
Cherry Cup
Acorn Cup
Spiny Cup
Let's see what the upcoming tracks will be like. Surely there'll be some old school maps that we know from classic consoles. I'm looking forward to the nostalgia!
Interested in all the other surprises Nintendo has for us? Then take a look at what they revealed at Nintendo Direct recently: