HoYoverse has already collaborated with big brands like Samsung for Genshin Impact in the past. To date, three Genshin-themed phones have been released, and a fourth is on the horizon! Curious about who it will be this time? Here's all the information you need!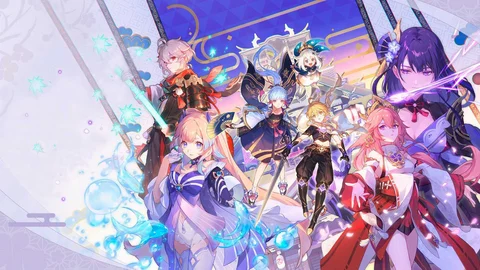 Over the course of the last two years, HoYoverse made sure that there is every possible bit of merch for Genshin lovers and their most precious pieces are by far the Genshin Phones! In collaboration with brands like Samsung, they produced beautifully made phones with special character details and accessories to go with it.
And now, it's time for a new version! Who is it going to be this time, and who would you wish for as the next Genshin Phone character? I would definitely want a Klee phone!
Genshin Impact: Special Samsung Galaxy Smartphone Announced
On May 18, Hoyoverse announced their new Genshin Phone via Twitter! HoYoverse is once again partnering up with Samsung for this one, just like they did with the Genshin Phone which featured Ganyu!
This time it is going to be the "Galaxy S23 Ultra" whowill get a Genshin make over!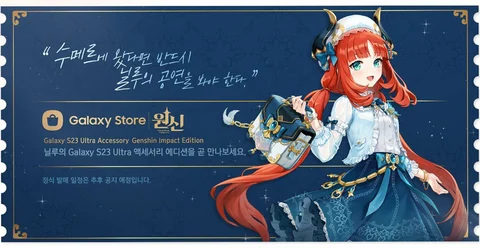 And no, your eyes do not fool you! It really does feature Nilou! The beautiful and elegant dancer under the Zubayr Theater from Sumeru City is here to take over your phone!
Unfortunately, there are no further details on what the phone will look like. But since Nilou is a Hydro character in Genshin Impact, we can predict that the phone itself will be in a darker shade of blue.
Previous Genshin Phones
As mentioned earlier, there are a total of three Genshin Phones at the moment, with Nilou's being the fourth one. Let's look at the other Genshin Phones to set the mood and get excited about the new one!
The Ganyu Phone
Our favorite Cryo Bow-Lady Ganyu was featured on the Galaxy Z Fold4 and matching Buds2 Pro around half a year ago. It released on December 21, 2022.
"If you lie on the grass, you can feel the heartbeat of the world." – Ganyu

Check out this trailer to experience the beauty of the Ganyu Phone yourself:
The gift box came with the phone itself, some stickers, charms, and a phone case. The 100 prepared boxes were sold out in just under 14 minutes, and it retailed for around US $1,800. Definitely an expensive 5-Star!
The Hu Tao Phone
The 77th Director of the Wangsheng Funeral Parlor has her own phone as well! Hu Tao is featured on the OnePlus Ace Pro Genshin Impact Limited Edition phone which released on October 2022.
"Well are those who rise in the early morn, while those late to bed I shall forewarn~" – Hu Tao

Look at it for yourself first:
In the box where this beauty came in, you could also find a phone chase, a tiny version of her weapon to get out your SD card and a diorama of her in front of her workspace!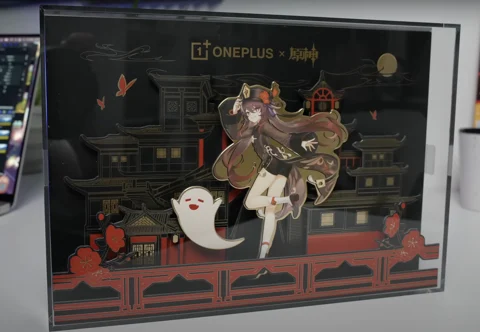 As little, special secret: They even made a Hu Tao ringtone for this phone! I wish I could have just this diorama of her …
The Sucrose Phone
Not to forget about our favorite Anemo support in the whole game! Sucrose is featured on 9RT OnePlus which released in early 2022. The best Knights of Favonius Alchemist has her own phone, including a phone case, a bunch of stickers and buttons!
"Waaaaa! No, stay back, don't come over here! No, no, it's nothing personal — it's just that this experiment is highly volatile and might cause an explosion." – Sucrose

It just has the most beautiful shade of mint:
Which of these phones would you want the most? Pretty hard to decide, since they are all beautifully made!
This article contains affiliate links which are marked with [shopping symbol]. These links can provide a small commission for us under certain conditions. This never affects the products price for you.