It looks like the next hero in Overwatch 2 has to be taken out of the game soon. This time it's Bastion again, one of the most famous heroes in the game. But a buff makes him just a bit too strong.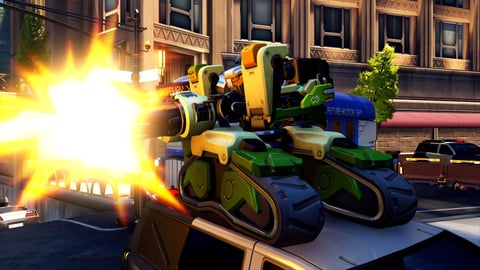 It was all so beautiful in Overwatch 2 Winter Wonderland 2022, but now we have another issue with Bastion, and this isn't the first problem that Bastion had. At the beginning of Season 1 there was a bug, that made his ultimate able to fire off multiple artillery strikes. Now, he might be on the chopping block again. And again, Kiriko's Kitsune Rush ultimate the reason.

If you need something for your PlayStation or a gift for your friends, you check this out.
Overwatch 2 Bug Improves Bastion Fire Rate
The game's newest support hero, Kiriko, is once again the reason for a bug. The first time, a glitch with Mei's Ice Wall let Kiriko shoot through solid objects. Now, Kiriko's Ultimate is believed to improve Bastion too much. In an Overwatch Reddit post, you can see a player giving Bastion a permanent buff with Kitsune Rush.
New bastion/kiriko bug allows him to keep his fire rate buff from kitsune rush, even when he dies. Potentially gamebreaking in the right hands? from Competitiveoverwatch
Some players are now afraid that Bastion will be taken out of the game once again. But there are also some fans who aren't worried. One user explained that the bug seems to only be a visual issue, and it doesn't have an impact on the game.
We have to say, it is not really easy to activate the buff and there are doubts whether it really works, so we'll have to wait and see what Blizzard will do. But for now, Bastion has the potential to dominate every game, if the buff works.
If you want to play some other games during the Christmas Season, check these out:
This article contains affiliate links which are marked with [shopping symbol]. These links can provide a small commission for us under certain conditions. This never affects the products price for you.