The first patch for Overwatch 2 Season 2 is cooming soon. In the next few days, they will change Sojourn, Roadhog and Doomfist. The most troublesome heroes are in store for some balance updates.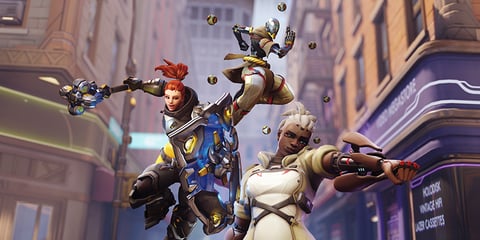 The first update for Overwatch 2 Season 2 is coming this week. The heroes Sojourn, Roadhog, Ramattra, Tracer and Doomfist will be changed. The game director has teased the patch in a tweet. We think this sounds like a good idea, actually, as these heroes need some tweaking.
First Patch Coming Soon
Overwatch 2 Season 2 is live and there are a few heroes dominating the meta. No matter which game mode you play, you might have noticed one of the problems. Roadhog dominates your whole team as tank, and Sojourn's oppressive damage output in the DPS role is too strong.

Fortunately, change is coming. After the season 2 launch patch, Blizzard is ready to introduce even more changes to the game.
The team is looking at potential changes to Sojourn, Doomfist, Ramattra, Roadhog and Tracer with the planned balance changes coming later this week. https://t.co/zzZ9X3OYER

— Aaron Keller (@aaronkellerOW) December 13, 2022
With the new Hotfix Feature, small balance changes can be made quickly. And they will start immediately. Sojourn, Doomfist, Ramattra, Roadhog and Tracer will be adjusted this week.
For the damage role, this means players can expect more highly requested nerfs for Sojourn, along with possible tweaks to Tracer's gear.

As for tanks, Doomfist will be downgraded a bit after his recent buffs, while Rammatra will be slightly buffed. However, the support category will not be changed in the next update. Exactly when these changes will come and how they will turn out remains to be seen. According to Keller's tweet, it will happen in the next few days.