If you finished the story in Pokémon Scarlet and Violet and want to test your skills against other players, now's your chance. The first season of Ranked Battle has started, and here's all the important info.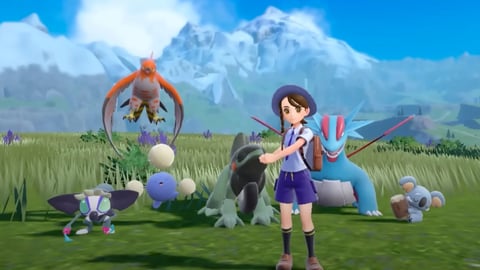 While Pokémon Scarlet & Violet aren't the most beautiful Switch games to look at, and Nintendo already apologizing for the horrendous performance, the ninth generation is actually quite fun to play. Battles feel a bit faster and there is a lot of potential with strong Pokémon from the Paldea region. Now, season 1 of Ranked Battles has started – we have all the important info for you!
Pokémon Scarlet & Violet: Ranked Battle Series 1 Explained
The first Ranked Battle Series in Pokémon Scarlet & Violet started on December 2, 2022, and will go all the way until next year's January 31st. During this time period, you can go face-to-face with similar skilled players to climb the ladder and get to the Master Ball Tier, where the best rewards await. Obviously, you need to follow some rules and aren't allowed to use banned Pokémon!
Official Set of Rules
The rules of these Ranked Battles are pretty easy to follow and quickly explained. In addition, there are not many differences between singles and doubles competition. Here are the rules:
Total Time: 20 minutes
Your Time: 10 minutes
Team Preview: 90 seconds
Turn Time: 60 seconds
Singles: Team of 3 to 6 Pokémon from Level 1 to Level 100 (set to lvl 50)
Doubles: Team of 4 to 6 Pokémon from Level 1 to Level 100 (set to lvl 50)
Different Tiers & Rewards
As in any other competitive game, the more wins you can achieve during the season, the higher your final rank will be. Better players also get better rewards – it's that simple. But don't worry, if you're new to the franchise. Just try your luck and most importantly have fun!
Tier
Items
Points
Master Ball Tier

1x TM 171
1x Gold Bottle Cap
3x Bottle Cap
1x Ability Capsule

100,000 League Points
Ultra Ball Tier

1x TM 171
1x Gold Bottle Cap
3x Bottle Cap
1x Ability Capsule

60,000 League Points
Great Ball Tier
30,000 League Points
Poké Ball Tier
10,000 League Points
Beginner Tier
5,000 League Points
Pokémon Banned From The Competition
Due to various reasons, some Pokémon are even banned from competing in Ranked Battle series 1. This list includes the two cover legendary dragons Koraidon and Miraidon, all of the paradox forms, the Charmander line, and some other Pokémon you can catch in Paldea. On top of that, only Pokémon registered in the Paldean Pokédex are eligible to participate.