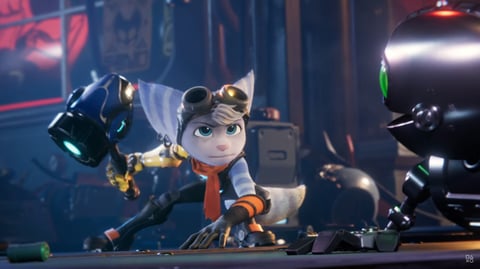 Insomniac Games is gearing up for the release of Ratchet & Clank: Rift Apart this summer. Pre-orders are available now with sweet bonuses. Find out all the details about the release date and pre-orders right here.
If you're looking to pre-order Ratchet & Clank: Rift Apart you can do it in the PlayStation Store right now and you have two options: The Standard Edition or The Digital Deluxe Edition.
Standard Edition Pre-Order Bonus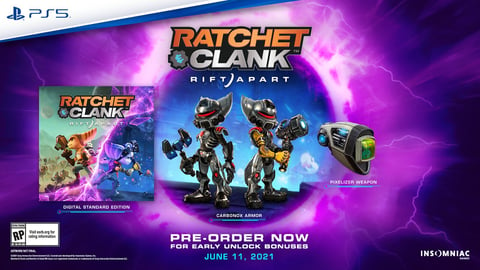 Digital Copy of Ratchet & Clank: Rift Apart
Carbonox Armor Skin
Pixelizier Weapon
Digital Deluxe Edition Pre-Order Bonus: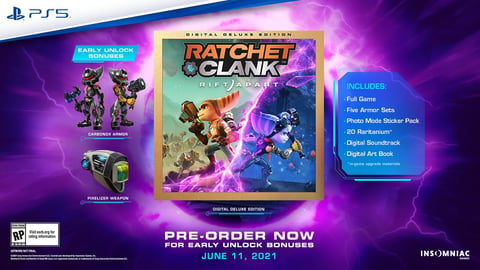 Digital Copy of Ratchet & Clank: Rift Apart
Five Armor Set Skins
Photo Mode Sticker Pack
20 Raritanium
Digital Soundtrack
Digital Art Book
The price difference between the two editions is €10, so it is quite reasonable for what you are getting. But keep in mind this is a triple-A game and has a hefty price tag. Ratchet & Clank: Rift Apart is set to release on June 11, 2021, and is exclusively on the PlayStation 5. The Standard edition is €79.99 and €89.99 for the Deluxe Edition.

The name of the Silver Lombax is still unknown and is the biggest unsolved mystery of 2021. The Insomniac devs continue to tease us poor fans and refuse to tell us the name. Sad face. We still have to wait far too long for this awesome PS5 title.
For more gaming and esports news, stick to EarlyGame. Get in touch with us on Discord, or engaged through our Twitter and Facebook. Remember to check out our YouTube channel!