There are many Achievements in Halo Infinite that cannot be seen with the naked eye. What are the secret achievements in Halo Infinite? Let's find out...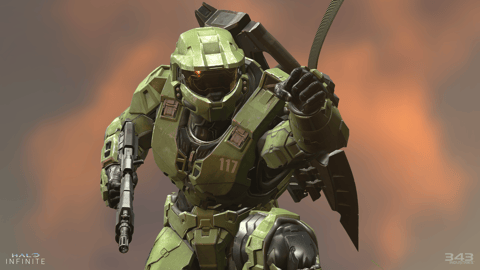 Halo Infinite is here, and it's magical. It's also synonymous with the end of 2021: a little bit of a mess, but a lot of fun. It also features a lot of quality content, something that you couldn't really say for a lot of other games that have come out this year. Honesty, Halo Infinite will probably be our game of the year, but it will depend on what all of you EarlyGamers vote for. Anyway, there are lots of achievements in Halo Infinite, but what about the secret ones?
Yes, that's right, not all Halo Infinite Achievements are viewable, and in fact, there are a ton of secret achievements in the game. Isn't that just exciting? These achievements are the true sign of a Halo god, as it is impossible to fight for them unless you have read, well, this article. What are these secret achievements in Halo Infinite, and why should you vie for them? What does vie mean? What is going on? Maybe we should just go and eat a pizza, that sounds a lot easier. Oh, wait, let's get on with the article...
How many Secret Achievements are there in Halo Infinite?
There are 18 Secret Achievements in Halo Infinite. They might not be listed, but they certainly exist, and most of them are related to the game's campaign and story components. Many of Halo Infinite's Secret Achievements are a little bit underwhelming, considering that they are for completing super basic tasks such as "Defeat[ing] the Banished warlord Tremonius". Many of these are pretty bloody pointless, but some of them are kind of cool.
Probably not as some of the games that are coming out in January, though...
All Halo Infinite Secret Achievements
| | |
| --- | --- |
| Achievement Name | Achievement Task |
| Ascension | Defeat the Banished warlord Tremonius |
| Brothers Grim | Take down the Spartan Killers Hyperius and Tovarus |
| Fallen | Follow the UNSC signal to a Banished stronghold called the Tower. Find the source. Get out alive. |
| First Contact | Lost, and found |
| Greased Lightning | Complete the Movement yard in under 25 seconds |
| Hear These Words! | Infiltrate the Command Spire and put an end to the Reformation |
| Hunter. Killer. | Defeat the Hunter pair stationed at the base of the Spire |
| Legends | At the end he was just a soldier. Hoping he'd done the right thing. |
| Light the Way | Reach the Beacons, assemble the Sequence, and gain access to the Command Spire |
| One Down… | Destroy a Banished anti-aircraft gun |
| Pelican Down | Shut down the first Spire and stop Zeta's Reformation before it's too late |
| Reckoning | Storm the House of Reckoning |
| Together. Again? | Explore the underbelly of Zeta Halo and retrieve a weapon to turn the tide in this conflict |
| Together. Again. | A friend is in danger and time is running out. It's time to face your past and save your future. |
| Too Many Goodbyes | Defeat the Harbinger. Confront the truth. |
| Unearthed | Shut down the Banished mining laser and gain access to the Conservatory |
| What Will It Take? | Enter the Nexus and learn the secrets of the Spires. Trust is a fragile thing, isn't it? |
| Zeta | Fight your way through Outpost Tremonius and step out onto the surface of Zeta Halo |
Halo Infinite has a plethora of achievements that are available to avid fans. One of the signs of a true Halo Legend is someone who has, or is trying to unlock all the game's achievements. It can be fun, but it can also take an insane amount of time and certainly requires a lot of time and patience. Especially when the campaign had just launched and achievements weren't working properly yet. Don't worry, though, they've fixed this issue!
The team is continuing to investigate reports of #HaloInfinite Achievements not unlocking. We will continue to share updates when we have them.

— Halo Support (@HaloSupport) December 9, 2021
The most notable hidden or secret achievement in Halo Infinite is "Greased Lightning". This one tasks players with "Complete the Movement yard in under 25 seconds" and is widely Googled by players who want tips and tricks on how to complete it. Now, whilst we haven't quite got to it yet, hang on there ladies and gentlemen. It won't be long and we'll have some great tips to help you gather all of these sweet, delicious achievements. Speaking of sweet and delicious, it's time for me to bugger off. There's a pizza awaiting me.