The latest big Humble Bundle offering supports the victims of the earthquake in Türkiye and Syria with a huge bundle that gets you over 70 items for $30.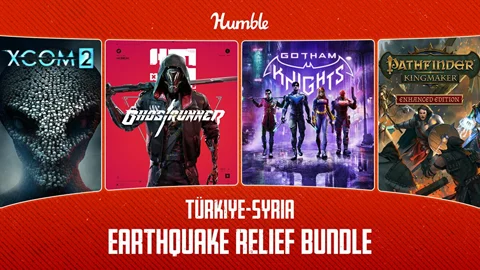 Humble Bundle is always supporting good causes, and their latest one is tackling a particularly pressing issue. The latest mega bundle on offer supports humanitarian efforts in Türkiye and Syria, offering relief and support after the two countries were hit by devastating earthquakes.
You can now support this mission, by purchasing the "Türkiye-Syria Earthquake Relief Bundle", which offers you over 70 games and digital books for a price of just $30.
Humble Bundle Supports Türkiye-Syria Earthquake Relief – Get Games Like Gotham Knights For A Good Cause
This huge new bundle includes 72 games and digital books, including titles like Gotham Knights, Ghostrunner and XCom 2. Humble Bundle says that "100% of the proceeds will go to Direct Relief, International Medical Corps, and Save the Children in support of their ongoing Türkiye-Syria quake relief efforts."
This is a great way to give much needed support. And you're getting some great games for it, including titles from Türkiye. The bundle is available until March 9, you can get it here.
What Is Included In The Türkiye-Syria Earthquake Relief Bundle
There is so much in this bundle, so we can't list it all. But here are some of the highlights included in this package:
Gotham Knights
XCOM 2
Ghostrunner
Payday 2
System Shock – Enhanced Edition
System Shock 2
Mount & Blade: Warband
Ticket to Ride
Euro Truck Simulator 2
Death Squared
Worms Rumble
Backbone