A few weeks ago the couch co-op mode for the rogue lite shoot'em-up game Vampire Survivors got announced. Now it was shown what it will look like and it's complete chaos.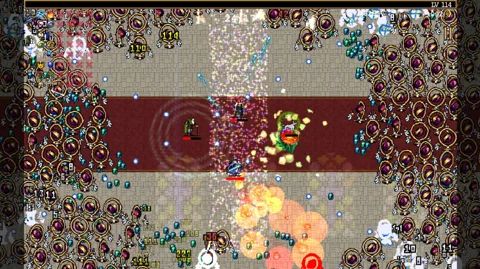 Vampire Survivors is an incredible indie game that took the gaming industry by storm and surprise as well. With the reverse bullet hell mechanic, developer Poncle created a whole new genre.
Through the Xbox website the Senior Marketing Manager, Geo Morgan, announced a closer look at how the recently announced couch co-op mode will actually work and which surprises players might be able to look forward to. The 4-player couch co-op mode arrives on August 17.
Detailed Gameplay Insights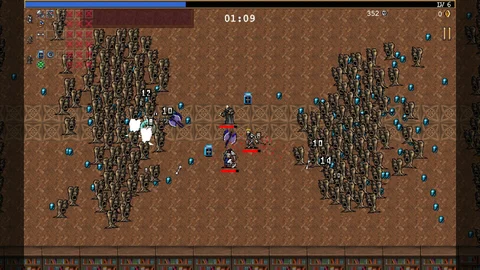 With the Vampire Survivors co-op update, you won't need a new save file. You may continue where you left off and add up to three different co-op players to your game. Through the character selection screen, every one of you picks a hero and can enjoy the craziness of Vampire Survivors together.

You can't pick the same characters: Already selected characters can't be picked by someone else – lucky us, because the screen probably would just implode.
Levelling up works differently: Players will level up in turns and if one companion dies before the stage is cleared, their level up is moved along to the next player
Revive your friends: Characters who die early on turn into a coffin, only if you keep this coffin to save your friend can revive over time
With friends the amount of weapons decreases: Depending on how many friends are playing, the amount of weapons decreases. Decide wisely or run havoc and create some chaos!
No achievements: The couch co-op update won't include any new achievements. But you can unlock the other achievements together with your friends!
New Item arriving: The Friendship Amulet is here. This item can appear on the level-up screen and will level-up a random weapon for each player.
Get your Revenge: If you think your friends aren't as committed as they should be, you can easily get revenge on them.
Special Update for Players On Steam
Vampire Survivor players on Steam get a free update before the release on August 17! The developer adds five Steam trading cards, six badges, five emoticons and three profile backgrounds for personal customizations. It's the first step for the developer and after the official release from the couch co-op update, they will be looking into making more items like that.
But on a different note: Vampire Survivors will only support couch co-op! However, Poncle also announced that the game works perfectly fine with the Steam Remote Play Together option. You might just hop onto that and play with your friends from far away!

This article contains affiliate links which are marked with [shopping symbol]. These links can provide a small commission for us under certain conditions. This never affects the products price for you.