The Wild Hearts release date is fast approaching, but what is the game? Well, it's basically Monster Hunter meets Fortnite. Big badass monsters we're looking forward to defeating in an exciting combat experience. If you want to know more, read on to see all Wild Hearts news, details on the gameplay, story and more.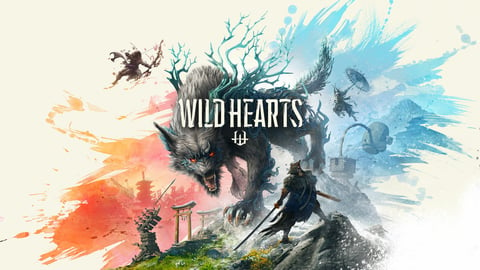 Wild Hearts is a new kind of hunting game by Koei Tecmo and Omega Force, published by EA, which combines Monster Hunter with Fortnite. It introduces innovative crafting mechanics in the combat against the Kemono, giant beasts that have fused with nature and mutated into something astonishing.
You can journey through its vibrant world alone or experience it with up to two friends in seamless co-op. The world of Wild Hearts takes place in Azuma, which is inspired by feudal Japan and has a thrilling fantasy landscape. The mutated beasts, which usually live peacefully, are now rampaging across the countryside, destroying their surroundings and driving out the citizens from their villages.
You are the only hunter who can wield ancient technology, to create an array of Karakuri. With this, you can set traps, react to attackers, and deliver devastating damage to the beasts.
Wild Hearts Release Date & Platforms
The Wild Hearts release date is February 16, 2023. When Wild Hearts comes out, it'll be available on PC, PS5, and Xbox Series X|S. If you want to play Wild Hearts on PC, you can purchase it either on Steam, the Epic Games Store, or the EA app. Wild Hearts will support cross-play at launch. This is great for players who have friends on different consoles.
Gameplay: Monster Hunter x Fortnite
The game plays in a region called Azuma, and begins after players become bearers of an ancient technology, the "Karakuri". With this, players can use the energy of nature. The task is to restore balance across the region and potentially save the world from the wild animals, that suddenly are no longer peaceful and fear man.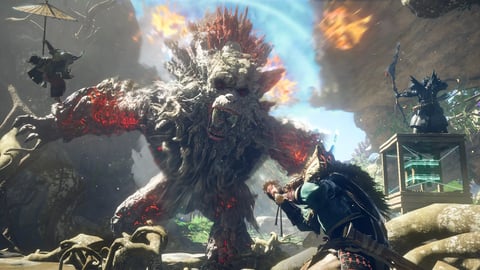 The technology enables you to craft and build new, highly flexible and creative hunting objects and weapons to take down giant Kemono. Stock up on materials to build many kinds of Karakuri, depending upon your needs, skills, and which Kemono you are fighting.
Every new Kemono you defeat unveils new Karakuri and new resources to use. According to the game's Steam page, Azuma is split into four regions, each of which is based on a different season. So expect plenty of diversity in the temperatures of each region, as well as further diversity in biomes within every region. There are no classes but similar to Monster Hunter, you create your own character and the abilities depend on the equipped weapon. Here's a list of weapon types:
The Karakuri, the unique technology you can use to fight monsters. Can be used as both weapons and tools and can be transformed into numerous forms
The Claw Blade, single-handed sword attached to a claw with a lengthy chain. You will be able to clutch the monster with the claw, then pull yourself close to it
The Cannon, this weapon shows off a variety of firing modes including standard blasts, auras that bolster health or damage, and a massive green laserbeam
The Karakuri Staff, its standard form is an unassuming rod on your back with blades at the end, you can spin it around with prowess and can even separate them for a dual-blade type setup here. There is also a Greatsword mode that releases attacks with a typical Anime-style big blade
Karakuri Katana, the combat stance with the katana seems faster and occasionally showed the blade turning into a whip-like shape
Bladed Wagasa, this is a Japanese paper umbrella, which has a unique defense mechanism by facing the parasol toward monster attacks
Shuriken Staff, this weapon has a unique form where it turns into a massive shuriken, that the player throws at an explosive item to finish the fight
Bow, a long-range weapon which is faster than the cannon and have more agile ranged options
Nodasa, a big Greatsword for huge damage numbers
Maul, a hammer that will be a slightly more mobile option for people who like to hit hard but can't handle the patience required to master a Greatsword
The game's executive producer Lewis Harvey announced that "all post-launch contents will be free, including new Kemono and more." He also emphasizes, that they "don't have any plans to feature microtransactions."
Harvey also stated that players wishing to play the game solo can do so completely offline, and that there is a post-campaign endgame with more powerful Kemono which will be expanded with the free content updates.

How To Pre-Order Wild Hearts And Which Editions You Can Choose
Wild Hearts is available to pre-order right now no matter what platform you want it. There are two different versions to buy and will cost 60€ / 70€ on release for the Standard Edition and the Karakuri Edition will cost players 80€ / 90€, but comes with the following extras:
With the Karakuri Edition of WILD HEARTS you get:

1 Tsukumo lantern
2 Cosmetic armor sets
3 Emotes

Pre-order now! #PlayWildHearts
: https://t.co/zcd3cYWppa pic.twitter.com/7ske62Ov3I

— WILD HEARTS (@playWildHearts) December 10, 2022
How Does The Game Differ From Monster Hunter?
Wild Hearts is obviously going to be compared to Monster Hunter in many ways, but it also reminds us of the gameplay we know from Fortnite. Monster Hunter involves preparing for tracking and hunting down numerous complex and oversized monstrous beasts that roam the wild lands. Fortnite is well known for many things, among them building. Wild Hearts seeks to combine these two gameplay types.
The combat with the Karakuri, which are items you can deploy to quickly construct Fortnite-esque builds, traps, barriers, traversal equipment, and more, looks super exciting. Aside from your weapons, Karakuri are among the most powerful tools in your arsenal when it comes to hunting down your prey.
SET YOUR TRAP

Learn to harness nature's energy with ancient tech only YOU can wield. Tune in to the Karakuri gameplay trailer on Nov. 17 at 7:00am PT. #PlayWildHearts

: https://t.co/l0WwgBpnfP pic.twitter.com/DIFtKHT5kh

— WILD HEARTS (@playWildHearts) November 14, 2022
Should You Play Wild Hearts?
From several previews it seems like the story is much more organic than the story you find in Monster Hunter. The mainline quests send you across the open world and there is not one main base or hub, instead there are campsites scattered around in four regions in this world, that are based on the four seasons.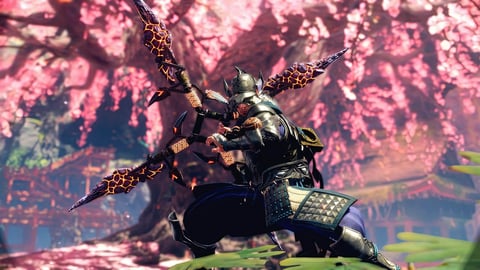 At these campsites you can set up camp, you can take on side quests, you can build your own stuff and craft items. The campaign will take about 30 hours to complete and for all of us that have played other hunting games before, we know that where the campaign ends, that's where the true game really begins.
Do you feel like playing Wild Hearts? Then let us know in the comments!
This article contains affiliate links which are marked with [shopping symbol]. These links can provide a small commission for us under certain conditions. This never affects the products price for you.