Attention! World of Tanks Prime Gaming Loot is back! You've got an Amazon Prime account? Lucky you! Time to collect your WoT in-game goodies and roll out onto the battlefield fresh and replenished!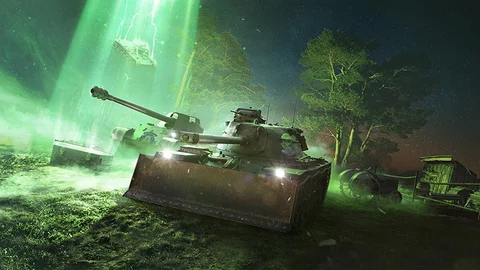 Are you an Amazon Prime member? You enjoy gaming, especially World of Tanks and you love free stuff? Then why not combine everything to get the benefits you've been dreaming of – and let's be real, when a million-dollar company offers anything for free, you take it.
Let's be honest, World of Tanks can be tough sometimes, particularly if you don't want to spend a small fortune on the game. Luckily, Wargaming and Amazon Prime partnered up to supply you with some amazing goodies. A Prime membership is all you need.
World of Tanks Prime Rewards May 2023
This month, you'll be able to collect another World of Tanks Package. It's called the "Extraterrestial Package" and the name already gives away what the theme will be this time around!
Let's take a look at the WoT Prime Gaming loot:
"All Your Cow are Belong to Us" 2D style
3 "Return Visit" decals, 3 "We Come in Peace" decals, 1 "Believer" medal
Rental Tanks (10 days)

Tier VIII German TD "Skorpion"
Tier VIII French LT "ELC EVEN 90"
Tier VIII German MT "M48 RPz"
Tier VII American MT "Eagle 7"

Consumables, XP Missions and Personal Reserves
1 Day of WoT Premium Account
Keep in mind, you have to choose wisely when it comes to your Prime Gaming loot! Including tanks, Consumables and Reserves, there are 6 available rewards, but you can only choose two of them. Will you go ahead and try out two premium tanks or invest in your crew and go for the Consumables? Your choice alone!
When Does The WoT Prime Gaming Promotion Start?
The "Extraterrestrial Package" for World of Tanks will be available from April 21, 2023 until May 24, 2023. So make sure your Prime membership is active, otherwise you'll miss out on some great in-game goodies!
A tank commander needs a capable crew and you need great hardware to get the most out of your tanks! Stock up on gaming gear and get yourself the Logitech G Pro Gaming Keyboard!

How To Link Your Wargaming Account and Amazon Prime
If you're not sure about to how claim your rewards, we've got you covered! First of all you need an active Prime membership and a Wargaming Account. If you fulfill these prerequisites, it's actually pretty easy going forward.
Follow this link to the World of Tanks Prime Gaming website
Sign in to your Wargaming Account. If you've got multiple accounts, make sure you use the right one. You can only redeem your loot once per Prime Account.
Wargaming redirects you to Prime Gaming, where you'll be able to collect your WoT Package.
Don't worry if it doesn't pop up instantly in your account, from our personal experiences it may take up to 24 hours for your loot to show up in-game, especially if there are many players collecting their package at the same time.
There you have it! We hope you can collect your World of Tanks Package without any problems. Enjoy your WoT Premium account and take those Tier VIII premium tanks out for a spin on the battlefield!
This article contains affiliate links which are marked with [shopping symbol]. These links can provide a small commission for us under certain conditions. This never affects the products price for you.