On Feb. 4, two LCS teams clashed—TSM and 100 Thieves. To hype up the audience for the match, the LCS broadcasting team prepared a segment featuring Reddit and Twitter posts on the TSM controversy that happened in 2022. LEC Host LeTigress apologized afterward, which made the situation even messier.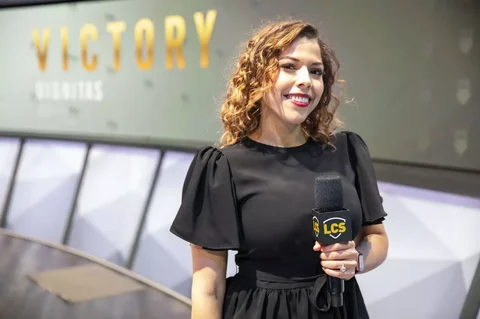 Before the game between TSM and 100 Thieves in the LCS Spring 2023 week two started, LCS host Gabriella "LeTigress" Devia-Allen tried to hype up the audience with a segment on TSM's controversy from last year. To make the fight of these teams more exciting, she spoke candidly about Yiliang "Doublelift" Peng's public accusations against TSM founder, owner, and CEO, Andy "Reginald" Dinh, for bullying and verbal assault.
This very quickly backfired and caused an outcry in the League of Legends community, who called the casting team "unprofessional" for using something as serious as these allegations to hype up a match.
After a failed apology fans were still dissatisfied, causing the host to take a break from the broadcast. Did the fans go too far in their harassment or was it warranted? Let's go over the entire story.
What LeTigress Said About Doublelift and TSM
Here you can see the part of the broadcast, where LeTigress talks about the issues between Doublelift and TSM:
How did the community react? A very clear opinion can be seen in this Reddit post. I think everyone agrees that something like this should not happen before a game and should be treated with much more discretion.
The Nonpology Didn't Make Things Better
I'd like to apologize to TSM and respond to the monologue

Read: https://t.co/6owrUpVawg

— Gabby Durden (@LeTigress) February 6, 2023
The way she expressed herself in her apology doesn't seem to be enough for many fans. A sensitive subject of this kind should not be treated in this way. For many, the manner of her apology showed that she had not understood the core of the problem and it only aggravated the fans even further.
The player mentioned in her broadcast, Doublelift, talked on his stream about how this whole thing "really missed the mark", and that it is "unfair to the victims who suffered the abuse". He also adds that "this reminds me of child-focused theater, where it's over-the-top theatricals, but for entertainment and comedy… This is not funny, this is not entertaining".
Doublelift was a former TSM player and explained that bringing up the topic about workplace harassment during a match was "just weird. This is just so weird, and the way that it's presented is so fucking weird if you really think about it. I mean, it's workplace harassment, legality is involved, there's like actual lawsuits involved… this is like a deeply traumatic series of events that happened to a lot of people, not just me".
LeTigress Announces Break From Broadcast
The fans' outcry has caused the whole subject to get even worse. Now she has reacted by saying that she wants to take a short break for her mental health. She emphasized that it was her own decision. While she was the one to perform the monologue, it's important to note that a whole team is behind the segment, with writers and producers looking over the content.
Fans have put all the blame on LeTigress, harrassing her for using this storyline ahead of the game, not even mentioninig the others who were also involved in this segment of the broadcast.

The many negative comments have now led her to a conclusion:
Hey everyone.

I've decided it best to take a mental health break away from the LCS. I want to emphasize this was my decision.

Reflecting and resting before returning ready for Week 4. Some of my activity on socials will return to normal as well. Love y'all.

— Gabby Durden (@LeTigress) February 8, 2023
What do you think about the story? Let us know in the comments!