KOI did not start the winter season in the most convincing fashion, but they looked transformed in the first week of groups, winning two Best of 3 series. The biggest reason for this was our player of the week, jungler Kim "Malrang" Geun-seong.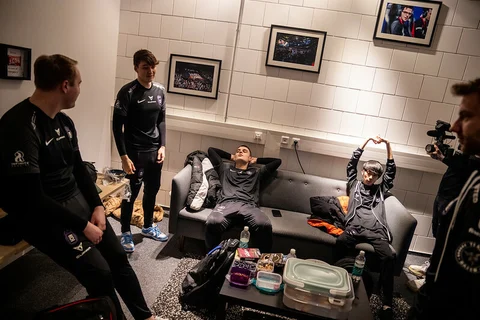 After the rapid-fire best of one games of the "regular season," the second phase of the LEC 2023 Winter Season saw a big change of pace as the eight surviving teams switched to two groups playing "best of three" series instead. Despite coming in as the summer champions, KOI were seen as somewhat of an underdog because of their mediocre performance in the first part of the split. When the smoke cleared, however, the former Rogue team left the group in first place, scoring two 2-0 wins.
For their jungler Malrang, this was the second year on the roster. He came to the then-Rogue in 2022 after a year a relative unknown, the substitute jungler of LCK powerhouse DWG KIA. Very quickly he put the LEC on notice with his gank-heavy style and while some expected him to eventually get exposed and mostly negated by his peers, he remained as one of the best junglers of the league and helped Rogue lift their first LEC title in the spring of 2022. In 2023, KOI had a somewhat shaky start, only winning 4 of their original 9 games. In a group with Team Heretics, SK Gaming and Team Vitality many expected them to sink or swim based on the cooperation between Malrang and his mid laner Emil "Larssen" Larsson - and that cooperation was definitely there.
Malrang's first series of the weekend was a nearly spotless performance against SK Gaming. He was clutch to Rogue's success, defusing his opponent Mark "Markoon" van Woensel and setting up his lane with two deathless Sejuani games. On Monday, he went against Team Vitality and their jungle prodigy Zhou "Bo" Yang-Bo. Malrang's aggressive early game was on full display and he was clutch to the performance of his team's carries, especially bot laner Markos "Comp" Stamkopoulos. Over the four games, he maintained a 8.8 KDA and remained unkilled in the first two games, with only one death in the first game against Team Vitality. While the latst game from him was somewhat bloodier, his Xin Zhao was stellar in terms of countering his opponent around the map and ensuring his teammates can take over
| | | | |
| --- | --- | --- | --- |
| Game | Kills | Deaths | Assists |
| Game 1: Sejuani | 4 | 0 | 5 |
| Game 2: Sejuani | 0 | 0 | 18 |
| Game 3: Vi | 1 | 1 | 9 |
| Gamer 4: Xin Zhao | 8 | 5 | 8 |
Read More:
The League of Legends Winter Season continue next week with the concludions of groups and the start of the playoffs. On Monday KOI will face G2 Esports. Who will win?