Who would have thought that this record would be broken one day? In the match against Fnatic, Carzzy, the AD-Carry of MAD Lions has achieved the seemingly impossible: He broke a record that Rekkles set more than eight years ago.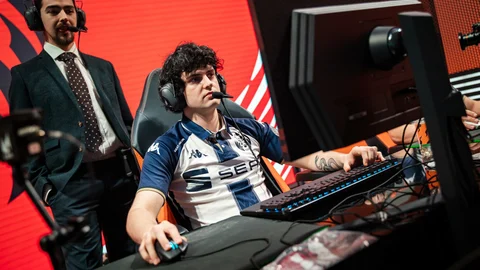 No question - the matches in the group stage of the LEC Spring Split 2023 were again damn exciting. But who would have expected that an eight-year-old record would be broken? Probably nobody!
However, Matyáš "Carzzy" Orság did it. The record set by the ADC of MAD Lions is not an irrelevant statistic - it's about kills! Carzzy has broken the record for the most kills in a one game!
League of Legends: MAD Lions ADC Carzzy Breaks Ancient Rekkles Record
In match 3 of the Group Stage between Fnatic and MAD Lions, Carzzy did not let himself be defeated. With the score at 1:1, he presented himself like a true hero. In the end, he had up to 19 kills on his score.
The irony is that the previous record holder saw Carzzy beat his record in live match action. It was Martin "Rekkles" Larsson who recorded 18 kills in one game during the 2014 Summer Split. That was more than eight years ago!
@Carzzylol just broke the records for most kills in a single #LEC game, with 19 kills.
Last record was set 3,194 days ago by @RekklesLoL , during Summer 2014. He had 18 kills.
Congratulations! pic.twitter.com/KJ1AGSoHIa

— LoLEsports Stats (@LoLEsportsStats) April 15, 2023
So it's pretty harsh that Carzzy not only broke Rekkles' record, but also contributed to Fnatic's elimination from the playoffs with his 19 kills.
MAD Lions Continue Fight For MSI Participation
The match against Fnatic though, was only half of the rivalry for MAD Lions. After Carzzy almost single-handedly defeated his opponents, it came down to facing Astralis in a Lower-Bracket-Duell.
Although Astralis managed to knock the Lions off the map in a desperate attempt in Game 2, their fate was sealed. With a 2-0 win, Carzzy's squad made it to the playoffs.
The next match will take place on April 21, 6 pm CEST. It won't be easy, as MAD Lions must play directly against G2 Esports. Especially exciting: one who loses – is out, as both teams play against each other in the lower bracket.
So if you want to know if Carzzy still has another record-breaking performance to offer, then be sure to join in! On April 17, 2023, Team Vitality and Team BDS will face off for a place in the LEC Spring Split Finals and take another step towards MSI 2023!
If MSI 2023 will be as exciting as last year's Worlds, then we have something to look forward to!
This article contains affiliate links which are marked with [shopping symbol]. These links can provide a small commission for us under certain conditions. This never affects the products price for you.