One League of Legends champion has been suffering for quite some time with barely any balance updates, but it seems that Riot is finally going to give him some attention.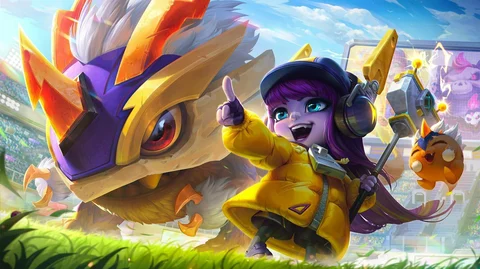 LoL Patch 13.8 is going to finally bring forth changes for one specific champion who has rarely seen any type of balance update. Who would have thought that a champion ability could go 13-years without a single change, right? Well, it's time to finally give Kog'Maw some attention.
Players have been expressing frustration with Kog'Maw and his passive, but until now Riot hasn't listened at all. Now he will get a buff to his passive, but will it be enough to make it an actual ability...?
LoL Patch 13.8: Champion's Passive Ability Finally Gets Buffed
Kog'Maw is one of the oldest champions in League of Legends, having been released all the way in 2010. Back then League was a completely different game, with far fewer champions and fewer items. It truly was a simpler time back then, eh?
Imagine a show about Kog'Maw... I'd watch it.
Well, can you believe that Kog'Maw hasn't received a single balance change to his passive since the champion was released? Well, that's going to change in LoL Patch 13.8, where he will be getting buffed. His passive, Icathian Surprise, is going to be getting some added damage.
If you're looking to get a new keyboard to master Kog'Maw, then I can only suggest the Perixx Periboard Mechanical Keyboard. It doesn't cost an arm and a leg, but the quality is top-notch.
Kog'Maw's passive turns him into a zombie upon death. He gains 40% movement speed, meaning you can control him and rush towards enemies before exploding and dealing damage. The damage of this explosion will be increased from 125-550 to 140-650 with the upcoming League of Legends patch.
This passive has never been touched since the inception of the champion. Granted, it was nerfed once on the long forgotten game mode, Dominion, but in "real" League of Legends it's been completely and utterly ignored.
With the 13.8 PBE patch Kog'Maw's passive will receive it's first ever buff since his release in patch 1.0.0.94
by u/Kokonkon in leagueoflegends
Fans Unhappy With LoL Patch 13.8 Kog'Maw Adjustments
Many fans have expressed their distaste with the changes. They are happy that Kog'Maw will deal more damage upon exploding, but the community feels that this is not a step in the right direction. Most of the time it feels like Kog'Maw doesn't even have a passive and players think that Riot should rework it from the ground up.
Kog'Maw feels like a champion that could be on the receiving end of a mid-scope update or even a visual and gameplay update (VGU) at some point, though a Mid-Scope does seem more likely. At the beginning of LoL Season 13, Riot gave Jax a small Mid-Scope that has helped tremendously, so a small MSU to give Kog'Maw a more useful passive isn't out of the question.
LoL Patch 13.8 is going to go live on April 19, 2023, so we will see then whether the small buffs to Kog'Maw make him a more meaningful pick on Summoner's Rift or whether the buffs are negligent.
This article contains affiliate links which are marked with [shopping symbol]. These links can provide a small commission for us under certain conditions. This never affects the products price for you.