ICYMI: LCS Legend Bjergsen has retired. He has announced his decision on Twitter on April 7, 2023. His retirement came pretty much out of the blue for many fans, but it seems like even 100 Thieves CEO Nadeshot wasn't expecting his star player to step down.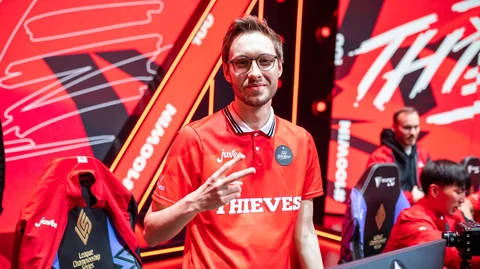 It's probably fair to say that there is a LOT going on in the LCS right now. There have been rumors about the region struggling with viewership for months now, but even after a thrilling and enjoyable 2023 Spring Split, it only seems to get worse.
Counter Logic Gaming, one of the oldest organizations in LoL esports, has folded, TSM seems to be struggling and then there is the retirement of Søren "Bjergsen" Bjerg. Nearly a week after his announcement on Twitter the CEO of 100 Thieves, Matthew "Nadeshot" Haag, has made some comments about Bjergsen's retirement that have stirred some controversy.
"Wish It Was Handled Differently" - Nadeshot About Bjergsen's Retirement
On April 12, 2023, 100 Thieves released a podcast featuring their CEO Nadeshot. They spoke about a lot of things, including how Bjergsen's retirement played out from the organization's side. Nadeshot stated that Bjergsen had informed the team approximately an hour before releasing his farewell video on Twitter that he intends to retire.
During the podcast, Nadeshot reflected on the situation, Bjergsen's decision and the Dane's time with the team. Understandably, Nadeshot was a bit irked by how Bjerg went along with the announcement of his retirement. He believed that Bjergsen should have communicated his plans in a different way, although he still showed understanding for how his former mid laner handled things.
Bjergsen wanted to be the one to announce his retirement and not have it spoiled by leaks. That is the most likely reason why he kept his plans to himself until the very end. Even though Nadeshot thinks that it would've been better if Bjerg had been more open to the team about it, he still holds no hard feelings against him and wishes him all the best for his future.
After the podcast went live, Nadeshot even took to Twitter to reiterate his standpoint, once again thanking Bjergsen for his time with the team:
Since the podcast clip is making its rounds and people aren't even taking the time to watch the entire clip, I hold no resentment or ill will towards @Bjergsen. I understand why he handled it the way that he did, I was simply explaining it from my perspective which is the entire...

— 100T Nadeshot (@Nadeshot) April 12, 2023
Bjergsen Reacts To 100T Nadeshot's Statement About His Retirement
If you've been a fan of the LCS or Bjergsen in particular, you might already know that Bjergsen is not the type of person to intentionally cause any type of controversy. As expected, it's no different this time around.
Bjergsen also made a statement about the situation, apologizing to Nadeshot and shutting down all the people that might want to pounce on the alleged falling out between the LCS legend and his boss:
I totally get it and agree I could have handled it differently while still likely not having it leak. I'm sorry about that.

Still happy and proud to have ended my playing career with you guys.

— Bjergsen (@Bjergsen) April 12, 2023
I'm a big fan of Bjergsen so I might be a bit biased on that, but resolving a bad situation like that just shows that Bjerg is a person with lots of integrity and sportsmanship.
In the end we also have to mention that Nadeshot's statements about Bjerg's retirement were also very well-worded. He has expressed his disappointment with how Bjergsen handled his decision, but has made it equally clear that he understands, and it doesn't change his respect for Bjergsen.
Good sport, you two!
Wanna know more about the end of Counter Logic Gaming? We've got you covered as well!
This article contains affiliate links which are marked with [shopping symbol]. These links can provide a small commission for us under certain conditions. This never affects the products price for you.