There are few things the League of Legends Community can agree on, but no one will deny the fact that Mid Laner Bjergsen is one of the biggest stars that ever came about in the LCS. But how much money has the Danish legend earned over the course of his career?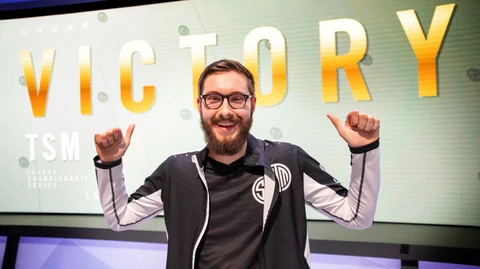 This is probably what many of you have in mind when you think of Søren "Bjergsen" Bjerg: The Dane in his iconic TSM jersey, celebrating yet another victory. Bjergsen was one of the first EU players to move to North America and try his luck in the NA LCS. He has had a long tenure with Team SoloMid, but even after his departure in 2021, he keeps his opponents up at night.
After leaving TSM, Bjergsen spent a year with Team Liquid. In 2023, he joined forces with his former Teammate Yiliang "Doublelift" Peng at 100 Thieves. Even though their playoff run ended early during the 2023 LCS Spring Split, this doesn't take away from Bjergsen's massive legacy in esports.
How much money might he have earned over his long-lived and successfull career? We've made some estimates about that, so read carefully!
Bjergsen Net Worth in 2023
First and foremost – everything we state here should be taken with a grain of salt. No one can predict Bjergsen's account balance with 100 percent accuracy, but we'll make some well-researched estimates based on what's known to the public.
The most accurate estimation will be on the total amount of prize money Bjergsen has earned over the course of his career. Bjerg is closing in on ten years in the LCS, and very successful years at that! So there are probably some juicy checks that went his way, right? Absolutely! Bjergsen has amassed almost $290,000 in prize money, according to League of Legends wiki "Liquipedia".
Speaking of Bjergsen and TSM: One of their toughest rivals ceased to exist:
No doubt, that's a lot of money already. But Bjergsen has missed out on a lot of international titles like MSI or even Worlds, which puts him a little behind some of his competitors from North America and around the world.
Teammate Doublelift has earned a bit over $330,000, whereas mid lane rival and fellow Dane Jensen sits at over $400,000. This is no comparison to the biggest name in the sport, though. Faker, "The Unkillable Demon King", has earned over $1.6 million over the course of his career.
Bjergsen Net Worth: Contract Money
Even though Bjerg might have missed out on some big prize money checks, he was easily one of the biggest earners in the LCS. We don't have to tell you about all the countless times the Dane has proven his worth to his teams over the last ten years in the league.
This is where we really have to start and estimate. Other than sports leagues like the NFL or NBA, League of Legends esports isn't as open when it comes to player contracts. We know there is a minimum salary for LCS players which sits at about $75,000 per year, but it's fair to say that star players like Bjergsen earn a lot more than that.
There have been apparent rumors and leaks about Bjergsen earning about $300,000 per year during his tenure with TSM, but many people don't give a lot of credit to these leaks.
In 2020 independent League of Legends reporter Travis Gafford broke news about mid laner Jensen signing a massive three-year contract worth $4.2 million. We're pretty sure that Bjergsen also earned close to $1 million in annual salary, especially during the later stage of his career.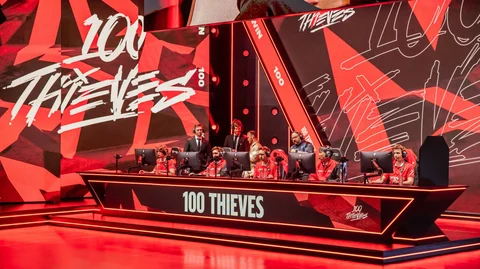 Another thing that makes Bjergsen stand out among other competitors is the incentives in his last contract with TSM. Although the exact details of the contract he signed with TSM in 2019 weren't disclosed, it earned Bjergsen a share in TSM, essentially making him part-owner of the organization.
The only other player that earned such accolades is none other than Faker. That probably speaks very clearly of the value Bjergsen brings to the table.
Bjergsen Net Worth: Sponsorship Money
As you might already know, there is a lot of money involved in League of Legends esports. Bjergsen had partnerships with big companies like Red Bull, Gillette, JBL, and more recently AT&T, Lexus and Chipotle through his current Team 100 Thieves.
It's not always easy to differentiate between companies that sponsor players individually and companies that are affiliated with players through their teams.
One thing is clear: There are some massive sponsorship deals being signed in esports, one example is Bjergsens former team TSM. They've signed away their naming rights to the cryptocurrency platform FTX in a 10-year, $210 million deal – although that one in particular went sour pretty fast.
So, how can we conclude our research? As we've said already, no one knows exactly how much money Bjergsen has stashed away in his bank account and contract details are rare to come by in League of Legends esports.
Given all the details we could piece together, we expect Bjergsen's net worth to be north of $10 million in 2023, maybe even closer to $15 million.
How many millions Bjergsen might have earned over the course of his career, we don't have a doubt that he is still the friendly, down-to-earth Dane that played his way into our hearts all those years ago.

On April 7, 2023, the Danish esports legend announced on Twitter that he will step away from esports. Even though we're sad that he will not be part of the LCS in the upcoming split, Bjergsen has cemented his legacy in League of Legends esports and will always be remembered.
This article contains affiliate links which are marked with [shopping symbol]. These links can provide a small commission for us under certain conditions. This never affects the products price for you.