DRX have come off one hell of a run at the 2022 League of Legends World Championship. But it seems that after the 2023 off-season ends we will be seeing a completely different team donning the jersey with every single player leaving the org and going their own way.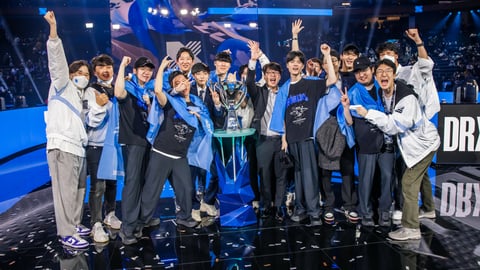 DRX fans... it was fun while it lasted, eh? The 2022 miracle run was a once in a lifetime occurrence to watch, but now it's all coming to an end with the decimation of a championship winning team that no one had pegged as the champion of the biggest esports tournament of the year.
The 2022 DRX squad will be going their separate ways with players going to new teams in the LCK and even in other regions. So let's take a look at what the DRX squad of 2022 has been up to this League of Legends off-season.
DRX 2022 World Championship Players Move to New Teams
Deft To Play for DAMWON KIA in 2023
Deft, the oldest player of the team will be joining a new team come 2023. Many had wondered whether he would be retiring and going to do his mandatory military service, but he still has a few years left. With a single text from jungler Kim "Canyon" Geon-bu, Deft was convinced to play on a new squad.
Canyon helped recruit the veteran bot laner to DAMWON KIA, where Deft will be playing in 2023. He signed a 1-year deal and will be looking to take home another championship.
Kingen and Zeka Move On Together
Kingen and Zeka, who have been friends for a long time since their days on the KT Academy team, will be moving onto a new team together. Hanwha Life is building their own super team for the 2023 season with the 2022 League of Legends World Championship Finals MVP, as well as the 2021 World Championship winning ADC Viper.
Life and Clid will complete the squad which looks insanely strong on paper. With three world champions on one team it is hard to doubt that Hanwha Life won't be competitors come 2023 for the LCK trophy.
This is what the Worlds Finals looked like:
BeryL Without Team
Thus far BeryL hasn't made any announcements of joining any new teams. His contract did expire on November 21, 2022, but unlike the rest of his team there haven't been a lot of rumours surrounding him yet. Maybe he's just too busy playing Genshin Impact and saving Primogems to get the newest character in the 3.3 update?
Pyosik Rumoured to Move to Team Liquid
Pyosik has confirmed that he will not be playing in the LCK for the 2023 season. On a stream he explained that by the time the team returned to Korea after their victory, a lot of teams had already finished their off-season deals, which meant there were limited options for him in 2023.
He did say he got a great offer from outside the LCK and decided to take it, stating that the team he will sign with has really good work benefits and environment. Rumours that this team will be Team Liquid have also surfaced. Now the NA squad only has to confirm the rumours.
Overall, the entire DRX team will be moving onto other teams. Will these players meet at the 2023 World Championship once more?
This article contains affiliate links which are marked with [shopping symbol]. These links can provide a small commission for us under certain conditions. This never affects the products price for you.