Big news in League of Legends Esports today: Faker is going to stay with T1 for three more years! He took some time to weigh out his options this offseason but in the end he went for what we all hoped for. T1 Faker forever!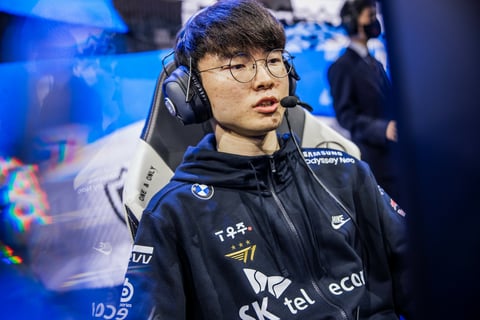 There was some real uncertainty this offseason about the future of Lee Sang-hyeok, better known as Faker. There were reports about offers he received from the LCS, and also rumors about him seriously considering moving to another region for the first time in his career. All those rumors turned out to be untrue though, as Faker will stay with T1 until 2025.
This wasn't the first time we were anxious about the future of Faker and T1, as there are rumors surrounding The Unkillable Demon King almost every League of Legends offseason. Either it's a blank check from an NA team or a $20 million per year offer from an LPL team. Still, Faker has rejected all those crazy offers and stayed loyal to T1 and the LCK.
T1 Reveal Contract Extension With LoL Star Faker
The news just broke moments ago on social media: This time it weren't leakers or esports insiders that informed us about Faker's contract extension, but T1 themselves. To the joy of all T1 fans around the world, their team legend will stay for at least three more years.
This is a big announcement in every way. We have already talked about how Faker, now 26 years old, is one of the oldest players in the LCK. He and Deft, his rival from the League of Legends Worlds Finals, are real oldtimers in Korean League of Legends. By the end of the contract he just signed with T1, he will be 29. Still, we have no doubt that he will amaze us countless times over the course of the coming years and we're glad he's doing it with T1.
November 28, 2022
For us, Faker re-signing with T1 was always the most likely option. Even though there were rumors about him seriously considering leaving the LCK behind, we couldn't put much faith into these rumors. Faker had rejected several offers over the years he has been at the top of League of Legends Esports. His statements during the post-game press conference also proved to be heartfelt.
It is true that we only finished runner-up in this worlds but I have faith we can grow even stronger as a team.
Now you have it! Get ready for three more years of incredible mid-lane action in the LCK! We're curious to see, what T1 will bring over the next few seasons. They've built a strong roster with a lot of potential and great leadership by Faker. They've come so close to winning it all this season, will we see Faker and T1 back at Worlds in 2023?
This article contains affiliate links which are marked with [shopping symbol]. These links can provide a small commission for us under certain conditions. This never affects the products price for you.